Most financial applications are packed full of features and functionality. But they're also impossible to use because the average person doesn't know what to do with that much power. To help fill the gap, Chronicle 3 for Mac makes it easy to keep track of bills and other expenses.
Anyone who knows me knows two things: I like to keep track of my money and I'm terribly forgetful. Naturally, those two traits don't always go well together. I want an easy way to see how much I'm spending, yet I might totally forget a credit card payment if I don't have a good reminder system in place. If this sounds even just a little like you, Chronicle 3 from LittleFin LLC ($20.95) might be the perfect solution.
Chronicle admittedly doesn't do much. But what it does do – much like Apple's own products – it does extremely well. Most people will find Chronicle has just the right number of features to get the job done without overcomplicating the user interface.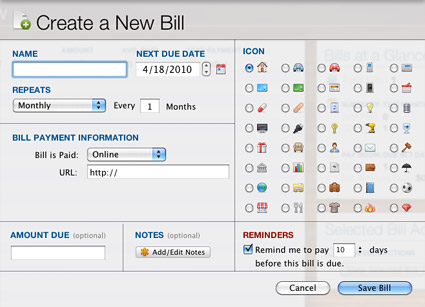 Getting started couldn't be simpler. When Chronicle is first launched, the user is encouraged to create a new bill. Clicking "New Bill" in the toolbar will bring up a nicely organized window of fields to fill, including name, next due date, repeats, and reminders. There are about 40 icons users can choose to identify what type of bill it is, such as a car or cell phone payment. The developer was also smart to include a field for how the bill is to be paid – online, mail, phone.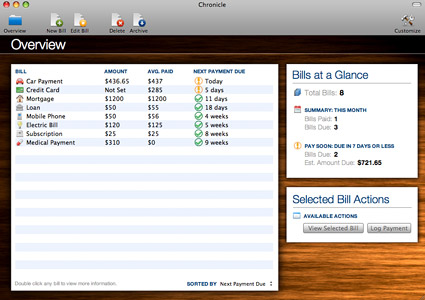 When a few bills have been added to Chronicle, the Overview screen provides a clear look at what's going on financially. Double-clicking an individual bill will reveal more detailed information like payment history, trends represented by graphs, and goals for staying on budget or reducing debt. If the URL of the biller's website was filled in when the bill was created, the "Pay Bill" button will take the user right there with one click. Pressing the "Log Payment" button brings up an area to fill in the payment date, amount, any important notes, and even attach a receipt.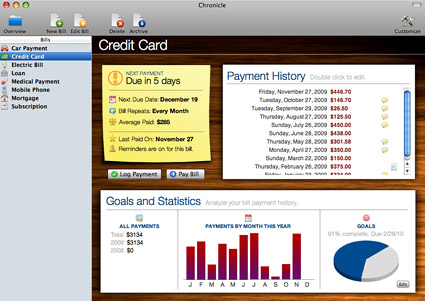 Believe it or not, that's about all Chronicle does in terms of core capabilities. There are a few extra benefits, though. For example, one thing I really like about Chronicle's reminder system is that it integrates with iCal so notifications can sync to an iPhone in addition to sitting on the Mac. Subscribers of Dropbox or Apple's MobileMe can also move Chronicle's database so it resides on their servers. This enables seamless data syncing between multiple Macs running Chronicle.
All in all, Chronicle 3 is a solid application from LittleFin LLC. It won't have enough features to satisfy financial gurus, but it won't have too many features to confuse regular folks either. With a selling price of $20.95 and free updates for life, I would definitely recommend checking it out. In addition to the great value, it will ease stress and provide much-needed financial organization for a lot of people too. To summarize in one statement: Chronicle is a well-designed piece of financial software with essentially no learning curve that can help the average person manage their reoccurring bills in a simple way.
Win a free copy of Chronicle for Mac!
The developers of Chronicle (regularly $20.95) have been kind enough to offer free software licenses to 3 lucky MacYourself readers! To enter, please leave a comment below, along with a valid email address (this is how we will contact you). In order to avoid spam filter issues, please type a coherent sentence saying you'd like a chance to win. Multiple entries will be deleted, so please only add one comment per person. And finally, don't worry if your comment doesn't appear on the site immediately — it might be awaiting moderation and will show up shortly.
The winners will be chosen at random based on the comment numbers they happen to be. The lucky guys or girls will be announced on this page, so bookmark this article and be sure to check back later. All entries must be made by April 22, 2010 at 11:59pm eastern U.S. time. In the meantime, download a free trial of Chronicle to try it out for yourself. If you're ready to purchase Chronicle after the free giveaway, get 20% off by entering MACYOURSELF as the coupon code upon checkout. Good luck!
UPDATE – April 25, 2010:
Congratulations to our winners Andrew, Paul, and Rhea! Their comment numbers were chosen from a random number generator and they have each been given a free copy of Chronicle 3! Thanks to everyone who entered and remember to consider purchasing a copy of Chronicle yourself at a 20% discount using the coupon code MACYOURSELF.