There are a number of utilities for Mac OS X that help users determine which files & folders are taking up all the space on their hard drives. But most don't have the unique approach, ease of use, and overall polish of DaisyDisk.
Have you ever suddenly found that your Mac is running low on storage space? It's natural for this to happen over the course of a few years, but sometimes you don't even know what's filling up the disk. Is it a bunch of old files? Some large movie files you forgot about? All that music you never listen to anymore? Instead of manually searching for the storage hogs, try an application like DaisyDisk.
DaisyDisk, available for $19.95, recognizes all of the volumes mounted on your Mac. It provides a simple overview of each drive and lets you scan the ones that are yearning for more free space. Once the scan has completed, an interactive "sunburst map" is displayed to represent all of the files and folders on the disk. It looks complicated at first, but once you understand how it organizes the information you'll find it to be an ingenious way of determining where large files are located. As an added bonus, it looks pretty darn good too!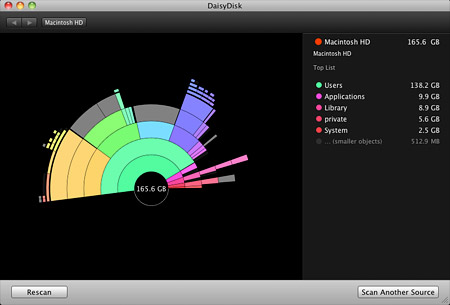 As you can see from the screenshot above, the innermost ring is the root of my Mac's internal hard drive. The green Users directory takes up a majority of the space, compared to Applications, Library, etc. Each level out represents another level or folder down in the hierarchy of the file system. Hovering over each portion of the map reveals more detailed information in the right-side column. Clicking on a "piece of the pie," so to say, transitions to a revised map with more specific files and folders. You can preview files via Quick Look and easily view them in Finder right from DaisyDisk – making it easy to inspect and delete files you no longer need.
DaisyDisk does one thing and does it extremely well. Multi-purpose utilities boasting similar features simply do not have the well thought out structure and user interface of DaisyDisk. The speed of scans, fluidity of animations, and organization of information are all great examples of what sets this application apart from the rest. DaisyDisk will undoubtedly come in handy for any Mac user at some point, so check out the free demo or register your copy at the developer's website.
Win a free copy of DaisyDisk for Mac!
The developers of DaisyDisk (regularly $19.95) have been kind enough to offer free software licenses to 3 lucky MacYourself readers! To enter, please leave a comment below, along with a valid email address (this is how we will contact you). In order to avoid spam filter issues, please type a coherent sentence saying you'd like a chance to win. It might even be fun to mention what's taking up so much space on your Mac. Make sure you're running Mac OS X 10.5 or later since this application won't work with anything older. Multiple entries will be deleted, so please only add one comment per person. And finally, don't worry if your comment doesn't appear on the site immediately — it might be awaiting moderation and will show up shortly.
The winners will be chosen at random based on the comment numbers they happen to be. The lucky guys or girls will be announced on this page, so save this article's URL and be sure to check back later. All entries must be made by June 18, 2010 at 11:59pm eastern U.S. time. In the meantime, download the trial of DaisyDisk to analyze your Mac's disk usage and free up some storage space. Good luck!
UPDATE – June 21, 2010:
Congratulations to our winners Chris, David, and Megan! Their comment numbers were chosen from a random number generator and they have each been given a free copy of DaisyDisk! Thanks to everyone who entered and remember to consider purchasing a copy of DaisyDisk yourself.