Mac OS X is already extremely secure out of the box – especially the latest version, 10.8 Mountain Lion. But that doesn't mean there aren't at least a few things you can do to help make your Mac even more safe to use.
When it comes to technology, the reality is that no device or operating system is 100% impenetrable. However, the last decade has shown us that OS X does a pretty good job of keeping users out of harm's way. In fact, a vast majority of Mac security vulnerabilities come from third party software, not OS X itself. Nonetheless, there are 5 simple things any Mac user can do to help make sure they're protected from the latest threats:
1. Disable Java in your browser
Most Mac users have no use for Java. It's a plugin still used by some web applications, but those are becoming more and more rare. Since it's also responsible for a huge number of Mac security exploits, most of us are better off just disabling it. Here's how:
Safari: Go to Preferences > Security and uncheck the box next to "Enable Java"
Firefox: In the menu bar, go to Tools > Add-ons > Plugins and click the Disable button next to Java.
Chrome: Enter chrome://plugins/ in the URL bar and click the Disable link under Java.

2. Disable "Open safe files"
If you're a Safari user, there's a feature that makes downloading files very convenient by opening them automatically. It's also a security risk. Let's take the safe route and disable this by going to Safari Preferences > General. Uncheck the box next to "Open 'safe' files after downloading."
3. Enable OS X's Firewall
Mac OS X has had a built-in firewall for many years, but it's never been turned on by default. The Firewall allows users to control a Mac's network connections on a per-application basis, which helps block unwanted programs from gaining access. If you're running 10.5 Leopard or later, the Firewall can be configured by going to System Preferences > Security > Firewall.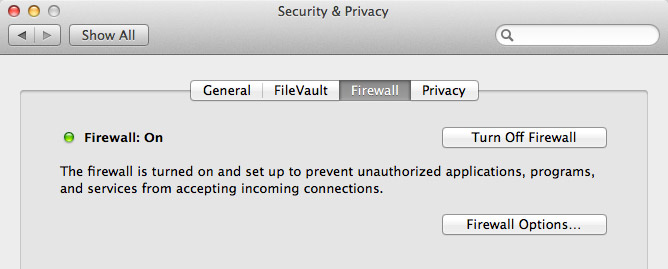 4. Standard user accounts
When you first set up your Mac, the user account you create is always an administrator. Most people end up using this account to store their files, install applications, etc. This isn't necessarily a problem, but it is considered best practice to only use administrator accounts when making changes to the system. Instead, for daily use, it's recommended that you create a second user account with standard privileges.
If you already have an administrator account that you've been using for a while, it's easy to create a new admin account and then demote your current account to standard. Sound complicated? It's not! Just go to System Preferences > Users & Groups and click on the lock icon in the lower-left corner. Once you enter your password, click the plus (+) button to add a new account. Select Administrator as the account type along with the other required information. Remember this username and password because you're going to need it somewhat often. Next, select your old account from the list on the left and uncheck the box next to "Allow user to administer this computer." Confirm the changes and you'll be all set!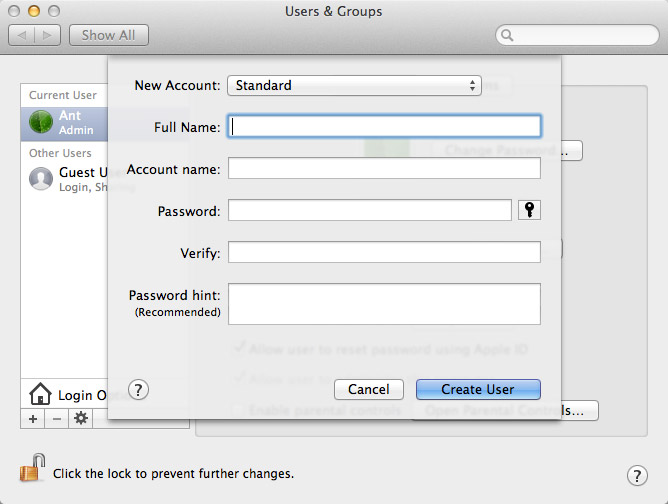 For the most part, a standard account will function the same – but when making major system-wide changes it will require an administrator's credentials. Just enter the username and password of the new admin account and you're good to go. By adding this extra validation step, it helps users remember to stop and evaluate whether something asking for an admin password is legitimate or malicious.
5. Install all software updates
Some users get annoyed by constant notifications to update their software. It may be tempting, but these updates are almost always for our benefit. They include bug fixes and plug security holes that hackers may exploit to gain access to our systems.
In OS X, it's easy to stay up to date by going to the Apple menu, then to Software Update. If you're running 10.8 Mountain Lion or later, all of your Mac App Store apps will update here as well. For other third party applications, it's a good idea to enable automatic updates inside those apps, if it's something the developer offers. Software like Adobe Flash and Microsoft Office, for example, have a surprisingly large number of vulnerabilities that get fixed with their updates, so you don't want to skip any.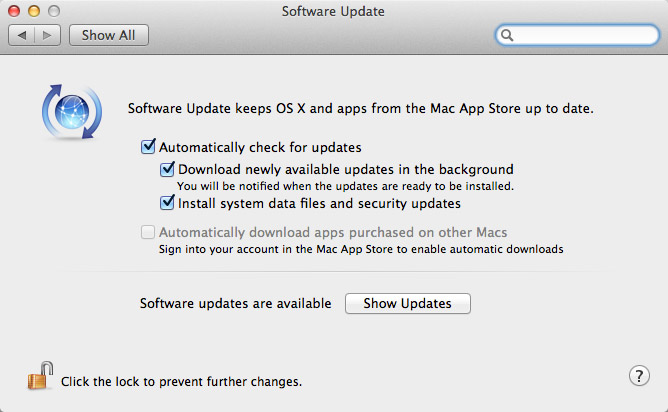 Bonus: Gatekeeper
Mountain Lion users have a new security feature – Gatekeeper – at their disposal to prevent malicious software from being installed on their Macs. One of our previous articles extensively covered what Gatekeeper is and how to use it.