With the introduction of OS X Lion, Apple changed the way file sorting works in Finder. Unfortunately, it has left some users confused as to why selecting Arrange By > Name isn't working in Finder's Column view.
An interesting issue has been plaguing some Mac users running OS X 10.7 Lion. When browsing in Column view, Finder sometimes won't let you sort files and folders alphabetically by name. Even if the correct setting is selected, Finder simply refuses to comply. Luckily, there is a quick fix for those affected by this problem.
Lion's new way of arranging and sorting in Finder
In previous versions of Mac OS X, the Arrange By function in Finder simply changed the order in which files and folders were displayed based on the user's selection. In OS X 10.7 Lion, there are two ways to sort: Arrange By and Sort By. Arrange By now groups files and folders into categories. For example, if you select Arrange By > Kind, all of the items in the current folder will be separated into groups for Documents, Images, PDFs, etc. The same is true if you choose to arrange by Date, Size, Application, etc.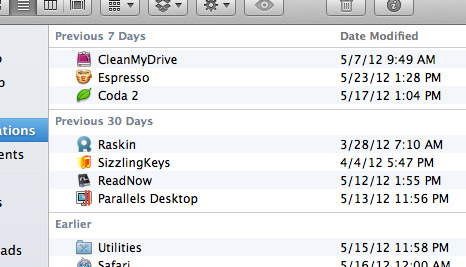 Kind of handy, right? So what if you've got arranged groups of files that you want listed in order of size? That's where the new Sort By feature comes in. When holding down the Option key, the Arrange By menu changes to Sort By. You'll see many of he same options as Arrange By – Sort By merely reorders the items that are already contained in the groups.
Replicating the issue
With that quick overview out of the way, let's get back to the issue of sorting not working in Finder's Column view. It all comes down to a conflict between Arrange By and Sort By. Even though you've got your Arrange By menu set to Name, the Sort By function is likely overriding it with another setting. Here's how you can replicate the issue on any Mac running Lion:
Open a Finder window and select View > as Columns in the menu bar.
Go to View > Arrange By > Kind in the menu bar
While holding down the Option key, go to View > Sort By > Date Added. Notice the order of the files and how they are categorized.
Next, release the Option key and go to View > Arrange By > Name.
Whoops! That didn't go as planned, did it? As you can see, your files are not arranged alphabetically by name. The groups are gone, but the files are still sorted by date!
The solution
Three easy steps resolve the issue:
Open the folder you're having trouble with in Finder.
Go to View > Arrange By > None in the menu bar.
Hold the Option key and go to View > Sort By > Name.
Done! It's interesting that this behavior only occurs in Column view and not Icon, List, or Cover Flow. One would expect Arrange By > Name to override whatever setting Sort By previously had, but that is not the case. In the future, it might be easier to leave Arrange By set to None and only use the Sort By setting to rearrange files. This behaves exactly like Arrange By used to in OS X versions prior to Lion.