Folks who love listening to internet radio on their Mac will find plenty to like with Radium. It's a lightweight application that sits in the menu bar and does its thing without ever getting in the way.
The number of internet radio stations available around the world is staggering. There's music, talk, comedy, and niche programming for nearly any topic you can think of. With Radium, a $16 internet radio player from CatPig Studios, thousands of quality stations become accessible with no setup and no internet browser. It simply sits in the Mac menu bar, minding its own business until you need it. That means no open windows, no desktop clutter, and no excessive drain on system resources.
While Radium already comes preloaded with a ton of internet radio stations, new ones are always being added by the developer and users can even add their own. Best of all – to me, at least – it supports Sirius/XM if the user has a subscription to satellite radio service. I'm a long-time listener of XM Radio, but have always found it too cumbersome to listen on my Mac in Safari or Firefox. Since I started testing Radium a few weeks ago, I've been listening almost every time I turn on my MacBook Pro. Its convenience and simplicity won me over.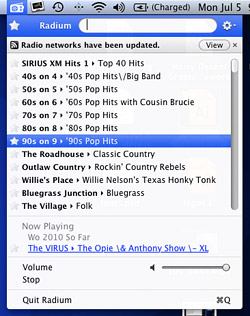 You'd think that having so much radio content crammed into such a tiny application would sort of make a mess. That's not the case with Radium, though, thanks to some handy features. Radio networks can be easily added and removed from the channel list in the Preferences window. Channels can be instantly searched for by name, genre, or other keyword right in the app itself. Finally, users can mark a channel as a favorite by clicking on the star next to its name. The channel list can then be filtered to display only favorites, which is a great way to reduce clutter.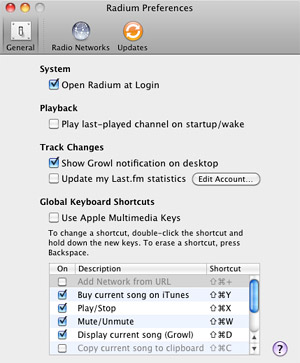 More advanced users will appreciate Radium's support for customizable keyboard shortcuts. Without ever touching the mouse, Radium can be instructed to open/close, play/stop, mute/unmute, buy a song on iTunes, and more. Radium boasts excellent integration with Growl too. The currently playing song or programming segment will be displayed with a Growl notification so the user doesn't have to keep clicking on Radium's icon to see what they're listening to.
Radium is a quality Mac application that is useful, unobtrusive, and easy to configure. I'm a big fan of having an internet radio player right in my menu bar so it never gets in the way. It would be nice to have some time-shifting capabilities to temporarily pause radio playback when a distraction arises, but Radium's lightweight nature is one of its biggest strengths. Adding too many advanced features might take away from what it does so well, which is provide a simple way to listen to thousands of internet radio stations on your Mac. Available on the CatPig Studios website for $16 or a free 30 day trial, Radium is definitely worth checking out if you're into internet radio.
Win a free copy of Radium for Mac!
The developers of Radium (regularly $16) have been kind enough to offer free software licenses to 3 lucky MacYourself readers! To enter, please leave a comment below, along with a valid email address (this is how we will contact you). In order to avoid spam filter issues, please type a coherent sentence saying you'd like a chance to win. Make sure you're running Mac OS X 10.5 or later since this application won't work with anything older. Multiple entries will be deleted, so please only add one comment per person. And finally, don't worry if your comment doesn't appear on the site immediately — it might be awaiting moderation and will show up shortly.
The winners will be chosen at random based on the comment numbers they happen to be. The lucky guys or girls will be announced on this page, so save this article's URL and be sure to check back later. All entries must be made by July 9, 2010 at 11:59pm eastern U.S. time. In the meantime, download the free trial of Radium and discover some cool new internet radio stations. Good luck!
UPDATE – July 11, 2010:
Congratulations to our winners Chris, Hade, and Tom! Their comment numbers were chosen from a random number generator and they have each been given a free copy of Radium for Mac! Thanks to everyone who entered and remember to consider purchasing Radium yourself.