We all accumulate a growing number of personal items and valuables as time goes on. But would you be able to easily determine all that was lost if an unfortunate disaster were to occur? Home inventory software offers peace of mind.
Compartments is a new application from LittleFin LLC, the makers of Chronicle, which gives Mac users a simple and elegant way to help protect their valuables. It does this by serving as a home inventory system that categorizes and stores information about things like electronics, furniture, collectibles, etc. Why is this kind of software necessary for the average person? In event of a natural disaster, theft, loss, or failure, all the details about the affected items will be in one easy to find place. It can certainly save a lot of stress and effort in times of need. Normally priced at $24.95, Compartments is currently on sale for just $9.95 until July 4, 2010.
After spending some time with Compartments I've found it to be a well-designed and user-friendly application with a ton of value. Much like LittleFin's Chronicle, their new product focuses on one main goal and executes it very well. Personal items are organized by location (such as a living room or kitchen) or searchable tags. Items can be added individually or in bulk to save time. When adding new items to Compartments, the user is presented with fields like Date Acquired, Warranty, Value, Make & Model, Serial Number, and Notes. Photos can even be attached to provide visual evidence, along with a nice selection of icons to easily identify different types of items.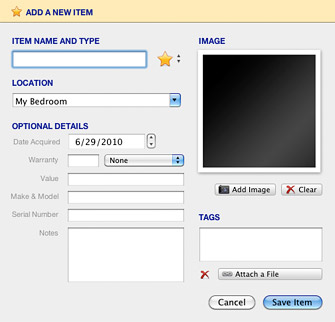 It's clear by looking at the type of data stored in Compartments what the developers had in mind for how it could be used. For example, its WarrantyGuard feature can take the information given and let users see when their belongings are running out of warranty coverage. Having models, serial numbers, and files like original receipts readily available makes warranty repair requests a smoother process too. This is especially true with electronics. Perhaps most importantly, Compartments can automatically generate a PDF report for insurance purposes. It can calculate total estimated values and save, print, or email the resulting document. It's impossible to emphasize how much trouble this can save when catastrophe strikes.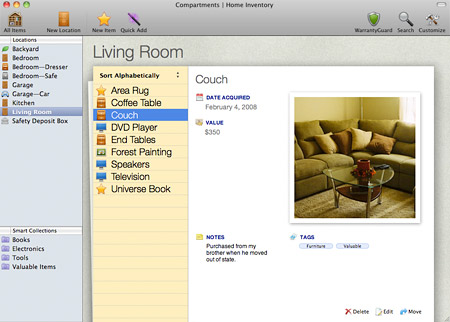 To summarize, Compartments is visually-appealing home inventory software that works as advertised and will inevitably come in very handy. Users will appreciate the care that went into its development, as well as the free lifetime upgrades from LittleFin LLC. Compartments is available for $9.95 until July 4, 2010 – a heavy discount from its regular price of $24.95. And when you enter the coupon code JEFFERSON at checkout, you will get an additional $2.00 off.
Win a free copy of Compartments for Mac!
The developers of Compartments (regularly $24.95) have been kind enough to offer free software licenses to 3 lucky MacYourself readers! To enter, please leave a comment below, along with a valid email address (this is how we will contact you). In order to avoid spam filter issues, please type a coherent sentence saying you'd like a chance to win. Make sure you're running Mac OS X 10.5 or later since these applications won't work with anything older. Multiple entries will be deleted, so please only add one comment per person. And finally, don't worry if your comment doesn't appear on the site immediately — it might be awaiting moderation and will show up shortly.
The winners will be chosen at random based on the comment numbers they happen to be. The lucky guys or girls will be announced on this page, so save this article's URL and be sure to check back later. All entries must be made by July 1, 2010 at 11:59pm eastern U.S. time. In the meantime, download the free trial of Compartments to start building your home inventory. Good luck!
UPDATE – July 2, 2010:
Congratulations to our winners Adam, Drew, and Russ! Their comment numbers were chosen from a random number generator and they have each been given a free copy of Compartments for Mac! Thanks to everyone who entered and remember to consider purchasing Compartments yourself.