If you need an internet download manager, a way to stream media to a PS3 & Xbox 360, or the ability to remotely access your home network, Yazsoft's collection of Mac software is your best bet – Speed Download, Playback, & ShareTool.
It is often claimed by detractors that Mac OS X has access to a smaller library of software title than Windows machines. But, as most Mac users have figured out, quantity and quality are two different things. Apple's platform has the most elegant and user-friendly desktop applications around. Yazsoft, for example, are Mac developers that prove this point with Speed Download, Playback, and ShareTool. I spent some time with each application and found that they are invaluable utilities for Mac users that have a need for their features. Yazsoft's software can be purchased individually or as part of discounted bundles.
Speed Download
The application most likely to appeal to a wide variety of users is Speed Download ($25) – a download manager that integrates with just about any Mac web browser to deliver fast and reliable internet downloads. Its auto-resume feature is great for those times when you want to start a large download now and let it finish later. I especially liked the minimized view, which is similar to the iTunes mini player for downloads. The built-in FTP client, secure file sharing, and MobileMe integration all contribute to an impressive list of features. Most people won't need to use all of them, so a stripped down Lite version ($20) of Speed Download is available as well.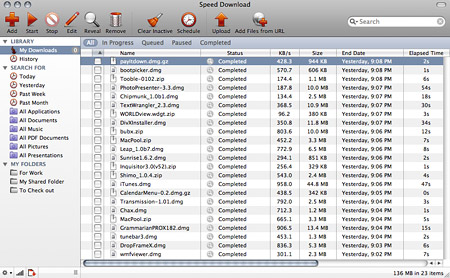 Playback
Playback ($15) is admittedly my favorite of the three Yazsoft applications. Usually when I want to watch a movie stored on my MacBook Pro on the living room's big HDTV, I have to hook it up with annoying video cables & adapters. Playback, however, lets users take advantage of the Playstation 3 or Xbox 360 that's already connected to their TV by streaming media content to it over the local area network (LAN). It couldn't be simpler – just start Playback, turn Media Sharing on, and your Mac will show up as a media server on the gaming console. It automatically integrates with iTunes, iPhoto, Aperture, Lightroom, and more. Copy-protected content from the iTunes Store can't be streamed, unfortunately, because of restrictions imposed by the media companies. But all of your DRM-free music, videos, and photos will stream from your Mac to your TV with essentially no setup.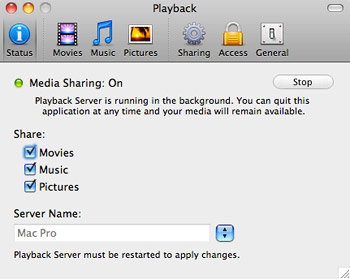 ShareTool
Yazsoft pitches ShareTool ($15) as an alternative to Back to My Mac, which is included in Apple's MobileMe subscription service. In many ways, ShareTool is superior to Apple's solution. Not only does it offer remote access to your home computer's screen and files, it also integrates with popular applications and only requires installation on one computer to access the entire network. That includes Time Capsules and other connected devices like home printers too. As an added bonus, those who travel and connect to public WiFi can use ShareTool to create a secure "tunnel" to their home network so all web traffic is blocked from snoopers and hackers.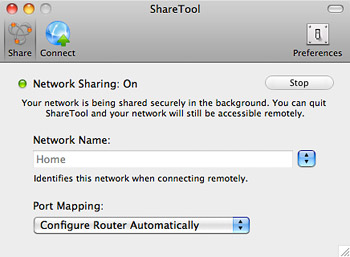 Win a free bundle of Speed Download, Playback, & ShareTool!
Yazsoft have been kind enough to offer free software licenses for all three applications to 5 lucky MacYourself readers! To enter, please leave a comment below, along with a valid email address (this is how we will contact you). In order to avoid spam filter issues, please type a coherent sentence saying you'd like a chance to win. Make sure you're running Mac OS X 10.5 or later since these applications won't work with anything older. Multiple entries will be deleted, so please only add one comment per person. And finally, don't worry if your comment doesn't appear on the site immediately — it might be awaiting moderation and will show up shortly.
The winners will be chosen at random based on the comment numbers they happen to be. The lucky guys or girls will be announced on this page, so save this article's URL and be sure to check back later. All entries must be made by June 27, 2010 at 11:59pm eastern U.S. time. In the meantime, download trials of Speed Download, Playback, and ShareTool to try them out. Good luck!
UPDATE – June 29, 2010:
Congratulations to our winners David, Joe, Felipe, Paul, and Ron! Their comment numbers were chosen from a random number generator and they have each been given a free bundle of Speed Download, Playback, and ShareTool! Thanks to everyone who entered and remember to consider purchasing a copy of Yazsoft's great apps yourself.