Whether you're a student, an employee-in-training, or just someone trying to learn a new subject, studying can be a bore. Cram for Mac helps the situation by offering a fun and interactive way to learn.
I'm admittedly terrible with tests and pretty much anything else that requires memorization. It's not just that my brain isn't programmed that way, it's also due to my inability to stare at a page for more than five minutes without dozing off. Sound familiar? If you're in the same boat, a piece of software called Cram might be for you. Developed by SimpleLeap Software, Cram is a $29.99 Mac application that makes studying a far more enjoyable and interactive process. It allows users to create their own flash cards and multiple-choice tests, then tracks performance for helpful progress reports later on.
Creating a new test
Cram's user interface is fairly simple – all it takes is a few minutes to figure out how it works. The sidebar on the left lists categories which make it easy to organize a series of tests and study subjects. Clicking on the New button in the top toolbar, as one might expect, creates a new test in the selected category. Helpful options like randomizing questions & answers and setting a time limit are available here.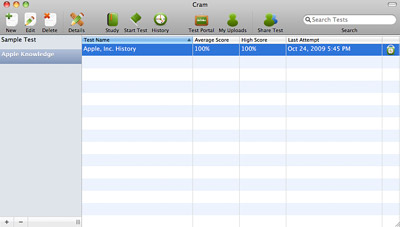 Once a test is created, sample questions can be managed by clicking the Details button in the toolbar. Up to five choices can be entered for each question, as well as interactive aids like images and sounds. These are great for people who are auditory or visual learners.
Studying with flash cards and practice tests
When the time comes to actually start studying the subject a hand, Cram has a valuable flash card function (the Study button in the toolbar). Cycling through cards and even reversing them – showing the answer first and then the question on the flip side – is a breeze. You'll feel confident about your knowledge in no time.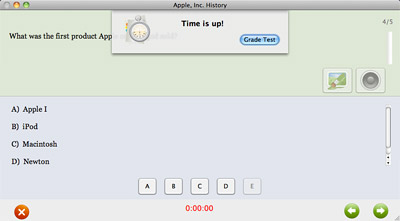 Of course, the only way to really find out if the information is sinking in is to take a practice test. Clicking the Start Test button will put Cram in exam mode. At the end, the program will show how well you did and offer the correct answers for any that were wrong. Test scores are saved, so past results are accessible at any time from the History button. It's a fantastic way to receive instant feedback on your progress.
Sharing, syncing, and printing
In addition to its learning tools, Cram also has features that make it more versatile. For example, it can download tests others have created and upload your own for others to try. Its Twitter integration for tweeting test scores is kind of cool too. And don't think your study materials are trapped on your Mac forever. Cram is on the App Store for iPhone & iPod touch and can sync tests between devices for on-the-go learning. Finally, traditionalists have the ability to print a paper copy of their tests as well.
Overall, it's safe to say Cram is the best way to study on a Mac that I've seen so far. It's simple to use, flexible, and most importantly, effective. It's got just the right balance of power and ease-of-use. If you're a student, Cram could be a considered a must-have.
Win a free copy of Cram for Mac!
The developers of Cram (regularly $29.99) have been kind enough to offer a free software license to one lucky MacYourself reader! To enter, please leave a comment below, along with a valid email address (this is how we will contact you). In order to avoid spam filter issues, please type a coherent sentence saying you'd like a chance to win. Multiple entries will be deleted, so please only add one comment per person. And finally, don't worry if your comment doesn't appear on the site immediately — it might be awaiting moderation and will show up shortly.
A winner will be chosen at random based on the comment number they happen to be. The lucky guy or girl will be announced on this page, so bookmark this article and be sure to check back later. All entries must be made by October 29, 2009 at 11:59pm eastern U.S. time. In the meantime, download a free trial of Cram to try it out for yourself. Coincidentally, the developers are running their own giveaway right now for Apple's new Magic Mouse on their website. Check it out and try entering both giveaways if you're really feeling good! Good luck!
UPDATE – November 2, 2009:
Congratulations to our winner Stacey! Her comment number was chosen from a random number generator and she has been given a free copy of Cram for Mac! Thanks to everyone who entered and remember to consider purchasing a copy of Cram yourself to improve your studying habits.