Looking to make your Mac faster? More organized? More secure? MacKeeper is a new application that aims to address all of those needs, plus a whole bunch more. It's an all-in-one solution that will help keep your Mac running on all cylinders.
I'm generally not a fan of all-in-one computer applications because it usually means they do a lot of stuff, but none of it very well. Plus, Macs tend to take care of themselves decently without much maintenance on the user's part. Why mess with something that does a good job on its own? It turns out MacKeeper, a new bundle of software & services from ZeoBIT LLC, offers convincing reasons why an all-in-one maintenance tool might not always be such a bad thing after all.
Available for $39.95 per year (with the opportunity for 30% or more in discounts), MacKeeper packs a ton of functionality in one package. It's an attractive deal, especially when compared to spending hundreds of dollars on separate utilities. And while some of what MacKeeper does isn't all that unique, there are a number of things that make it worth its price and more. To illustrate that point, here is a rundown of MacKeeper's features: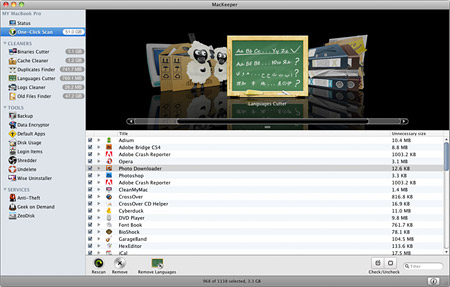 Binaries Cutter
Many Mac applications are universal binaries, meaning they contain code to run on older PowerPC-based Macs and new Intel-based Macs. If you're on an Intel Mac, for example, all that PowerPC code is taking up a good chunk of room on your hard drive. This feature can remove it to free up space and help applications run a bit faster. Watch out, though… some software like Adobe Creative Suite could break if you remove any of its binaries.
Cache Cleaner
Macs are pretty good at self-policing cache files, but they do occasionally swell up to hundreds of megabytes or even a gigabyte or more. If it sounds like a recipe for clogged hard drives & slow performance, it is! I wouldn't wipe out all cache files with MacKeeper – just the big ones that might be problematic.
Duplicates Finder
It's human nature to lose track of things every now & then, so of course we will gather duplicates of some of our files. This part of MacKeeper finds them so all you have to worry about is deciding what to keep and delete.
Languages Cutter
Much like the Binaries Cutter, Mac applications come bundled with code for multiple languages. Most people only need their native language, which means the others can be removed to save storage space. Again, this could cause trouble with Adobe's Creative Suite, so be careful.
Logs Cleaner
Macs keep logs to track what certain apps are doing, how networks are being accessed, and more. They're usually fine to be left alone, but getting rid of a few bloated ones could improve performance.
Old Files Finder
As its name would suggest, this feature tracks down files that haven't been touched in a while to help you figure out what should stay & what could go.
Backup
While I'm not so sure this is necessary since we have Time Machine, MacKeeper does have an easy to use backup function. It's good for backing up selected folders to external devices like USB flash drives rather than your entire hard drive.
Data Encryptor
Want to block other people from looking at certain files & folders? MacKeeper can encrypt them with passwords for advanced security.
Default Apps
File extension associations (like HTML files opening in Safari instead of Dreamweaver) get messed up sometimes, so MacKeeper provides a convenient overview of what programs are assigned to each extension, with the ability to change them.
Disk Usage
Ever wanted to know what's taking up all that space on your hard drive? This feature will figure out where those big files & folders are located so you don't have to hunt them down yourself.
Login Items
Although login items are easily manageable from System Preferences, throwing them in MacKeeper makes sense since just about everything else is there too.
Shredder
I'm not sure how this differs from Secure Empty Trash, but it's here nonetheless. If you need to delete files from your Mac in a way that removes all traces & possibility of recovery, this is for you.
Undelete
This is one of those features that might make MacKeeper worth its price alone. Users needing to recover files that were accidentally deleted often have to pay a hefty sum for specialized software to get them back. It remains to be seen how well MacKeeper stacks up to those pricey utilities, but it seemed to do a good job in my tests.
Wise Uninstaller
Another thing that makes MacKeeper such a great value is its ability to intelligently find & remove all traces of applications the user wants to uninstall. Dragging apps to the Trash leaves preference files & other junk scattered throughout the hard drive. Now users can avoid that clutter.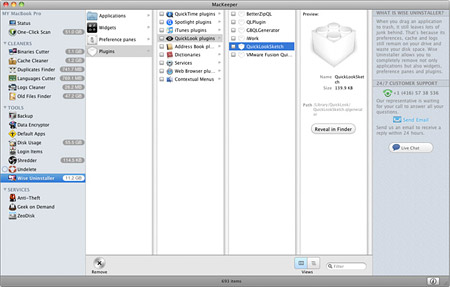 Anti-Theft
Getting into the services that set MacKeeper apart from similar applications, the anti-theft feature could prove invaluable for someone who lost their Mac or had it stolen. As long as you sign up for a MacKeeper account (free with subscription to the program) and activate the feature, it can track down your missing Mac and provide information that could help police retrieve it.
Geek on Demand
If there's one thing I can say about MacKeeper and ZeoBIT LLC, it's that they take customer support very seriously. That's why they encourage users to contact them with questions – not just about their software, but about Macs in general. Users can schedule support calls and get advice at their convenience, which is pretty cool. They're available 24×7 via phone, email, and live chat.
ZeoDisk
In the future, MacKeeper will include 3GB of online storage space for all of their active users. It's a shame this isn't available yet to test, but it will just add more value to an already well-priced package.
Overall, it's safe to say MacKeeper is an attractive deal at $39.95 per year. Some of its features are not especially useful or necessary, but there are just as many that can clearly make life much better for Mac users. I don't think anyone can look at its capabilities and excellent services without being at least a little impressed. How can anyone not like more speed, security, and storage space? Plus, there are convenient video tutorials built into just about every part of the program to guide new users around with ease.
I will say the software still has a couple bugs, which is to be expected at version 0.9.3. Luckily, none of them were serious or deal-breakers – just an oddity here & there. And development is ongoing at a rapid pace with software updates being released every week or two. It will be interesting to see where ZeoBIT LLC takes MacKeeper in the coming months & years, so definitely check it out & download a free trial.
Win a free copy of MacKeeper for Mac!
The developers of MacKeeper (regularly $39.95) have been kind enough to offer free software licenses to 3 lucky MacYourself readers! To enter, please leave a comment below, along with a valid email address (this is how we will contact you). In order to avoid spam filter issues, please type a coherent sentence saying which MacKeeper feature(s) you're most interested in using. Make sure you're running Mac OS X 10.5 or later since this application won't work with anything older. Multiple entries will be deleted, so please only add one comment per person. And finally, don't worry if your comment doesn't appear on the site immediately — it might be awaiting moderation and will show up shortly.
The winners will be chosen at random based on the comment numbers they happen to be. The lucky guys or girls will be announced on this page, so save this article's URL and be sure to check back later. All entries must be made by May 28, 2010 at 11:59pm eastern U.S. time. In the meantime, download the free 15-day trial of MacKeeper to try out its long list of features. Good luck!
UPDATE – May 31, 2010:
Congratulations to our winners Bri, Joseph, and Greg! Their comment numbers were chosen from a random number generator and they have each been given a free copy of MacKeeper! Thanks to everyone who entered and remember to consider downloading MacKeeper yourself.