Many users who jumped to set up their free Find My iPhone accounts after upgrading to iOS 4.2 have been bombarded with the nagging error, "Cannot Access: Review your account information in Settings."
One of the 4 new features the iOS 4.2 software update brought to the iPhone was a free version of Find My iPhone. Previously only available as part of Apple's $99 per year MobileMe service, Find My iPhone helps locate, send messages to, and wipe important data from stolen or missing iPhones. Some users who created their free accounts, however, have been hit with a reoccurring popup error on their iPhones: "Cannot Access [user's email account]. Review your account information in Settings."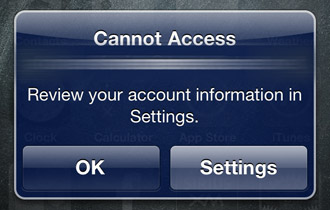 Even though all of the account information is correct, the message still pops up multiple times throughout the day. And while the cause appears to be a bug Apple needs to address, it turns out there is an easy solution to the problem right now.
Tap Settings on the iPhone's home screen, then go to Mail, Contacts, Calendars > Fetch New Data > Advanced.
Go to the MobileMe account and change the selection to Manual. All of your other accounts can stay the way they are.
You would think Push has to be enabled in order for the iPhone to send out a GPS signal or instantly receive a message sent through www.me.com, but that is not the case. The free edition of Find My iPhone will still work just fine with Manual selected and the "Cannot Access" error will no longer appear.