The free Concert Vault application from Apple's App Store opens your iPhone or iPod touch up a whole slew of music beyond what's already in your iTunes library. Be prepared for rare live performances galore spanning the past half-century.
Every once in a while there's an iPhone application you can't help but become obsessed with. Concert Vault, developed by Wolfgang's Vault, is one such example. I've actually had it installed for quite some time but only recently really explored what it has to offer. Now that I have, I can't stop. You'll likely have the same experience depending on your musical preferences. A large portion of their catalog comes from the 1970s and 1980s, but many date right up to today as well. With thousands of quality live recordings from almost 1300 artists, you're bound to find more than a few gems.
Concert Vault is free to download from the App Store and requires registration on the developer's website (also free) before gaining access to their extensive archives. The good thing about this is you can actually stream music from a web browser on a Mac or PC as well as your iPhone or iPod touch. No matter what device you happen to be using, Concert Vault keeps on giving.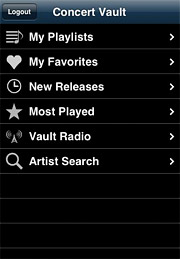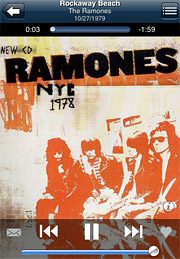 The application itself is very well done. It has a familiar iPhone OS interface and browsing their concerts almost feels like looking at your own iTunes library. Features such as custom playlists, favorites, and Vault Radio add even more value to the overall experience. Discovering new music is easy as well, with a search function, a new releases section, and a list of the most-played performances among all members.
As far as downsides, there isn't much to complain about. What's there mostly works great and the selection of free music really overshadows any minor quibbles I might have. Certain things are out of the developer's hands such as flaky internet connections which might affect streaming playback. The same thing goes for how users must stay in the Concert Vault application in order to keep the music playing. That, of course, is a limitation Apple imposes to maintain system stability and battery life. The only thing I would really like to see is the ability to move the playhead and skip to certain points during a track. As it stands right now you must listen to the entire track from the beginning or move to the next one.
No doubt about it, music lovers will drool over Concert Vault for iPhone. Their vast collection of live recordings from the past 50 years will satisfy your guilty pleasures (Huey Lewis and the News, anyone?) and popular favorites like the Rolling Stones, U2, The Who, Bruce Springsteen, plus many more. Download Concert Vault from the App Store and register at Wolfgang's Vault's website (both for free) to start enjoying the wide variety of tunes.
Concert Vault Wrap-Up
Pros:
Streams music for free over WiFi, 3G, and EDGE
Huge, diverse library of live concert performances
Simple, appealing user interface
Registration allows users access to music on Mac & PC via developer's website
Playlists & favorites sync to user's account over internet
Cons:
Streaming occasionally hiccups depending on internet connection
No way to move the playhead to different points during a track