Apple's iOS 4.2 software update was released last week for iPhone, iPod touch, and iPad. While the iPad got the biggest upgrade and most of the attention, the iPhone got its share of enhancements too.
One of the most rewarding things about buying an Apple product is that it always seems to get better and better the longer you own it. Through a series of software updates, new features and minor tweaks continue coming years after the original purchase – especially when it comes to the iPhone. And even though 4.2 is not a major new version of iOS, it still offers a few things to get excited about.
1. Search within a web page in Safari
Safari for Mac and PC, like other desktop internet browsers, lets users find specific words within the web page they're currently viewing. Now that capability has come to iOS 4.2 and iPhone. Just type your search term in the regular search box (at the top) and scroll all the way to the bottom of the live results list. You'll see a heading for "On This Page" with your term below. Tap that and you'll be taken through each instance of that term on the page, highlighted in yellow.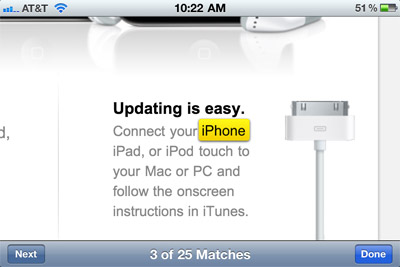 2. Find My iPhone for free
What was previously considered by many to be the most compelling reason to buy Apple's MobileMe service is now free. Users with an iPhone 4 can sign up for a free Find My iPhone account using their Apple ID (which is also used in iTunes). This is an invaluable service in case your iPhone ever gets lost or stolen. To set up your free account, go to Settings > Mail, Contacts, Calendars > Add Account > MobileMe. Type in your Apple ID and password, then check your email account for a verification message. Follow the email's instructions, then go back to Settings > Mail, Contacts, Calendars > MobileMe to switch on Find My iPhone. Now when you log in at www.me.com it will pinpoint the location of your iPhone, let you send a message to it, wipe its data, etc.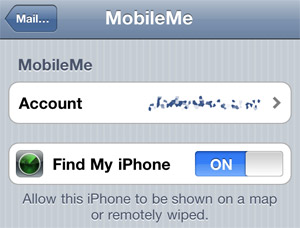 3. Convenient audio volume slider
While not a huge feature by any means, it certainly brings some convenience to volume control. A lot of times when you use the volume buttons on the side of the iPhone, they control the ringtone volume, not the audio playback volume for music & videos. No matter what app you're in, with iOS 4.2 you can just double tap the home button and swipe the multitasking bar all the way to the left to reveal a volume slider.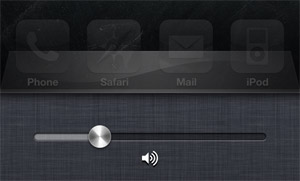 4. Assign text tones to individual contacts
iPhone users have long been able to assign specific ringtones to each of their contacts. Text messages, on the other hand, have always been delivered with the same tone no matter who they're from. The iOS 4.2 software update finally resolves this limitation. Just go in to edit a contact and you'll see a field where you can choose a text tone for that person.