Although I'm not the world's most dedicated hardcore gamer, I still enjoy a little fun on my iPhone. Lately there have been 3 games I just can't put down. Take them for a spin yourself and get addicted!
Gaming has somewhat surprisingly become one of the biggest selling points over the past year for the iPhone and iPod touch. Developers are flooding the App Store with new games every day which push the envelope in both creativity and flashy graphics. Personally, I like the simpler games that make me think and keep me challenged for a while, rather than the one-and-done nature of some gimmicky games. NineGaps, Paper Toss, and Land of the Lost all fall into that category.
The first game I've been hooked on is NineGaps from Quadion Technologies. Available from the App Store for just 99 cents, it's a math puzzle game that puts your brain's processing power to the test. It starts off with a 3×3 grid of spaces where you must drag the available numbers (1-9) into the correct spots to complete the indicated mathematical expressions in the shortest time possible. While a certain move may seem right at first, you might be shocked to find that it wasn't correct at all. This forces you to rethink the placement of numbers you've already used and how the remaining ones will come into play.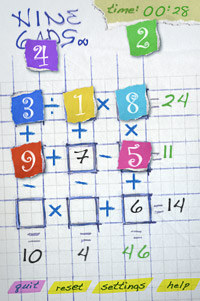 If it sounds a bit like an fast-paced elementary school class exercise, that's because it kind of is. In fact, the user interface is school-themed with entertaining sound effects to match. Don't think that means it's easy, though. Far from it! I can't tell you how many times I've frozen midway through a game and cracked under pressure. Getting the correct answers and beating the clock is somewhat stressful and at the same time extremely fun. The folks who put this game together did so with great attention to detail, which results in a polished, fantastic looking iPhone app that anyone can enjoy.
Another one of my recent addictions (brought to my attention by MacYourself co-founder Frankie P.) is Paper Toss from Backflip Studios. You can get it for free from the App Store at the moment, but the developer claims this is only a short-term offer. If you work in an office setting, this game will immediately strike a chord with you. Forced to be creative with the mundane objects in an office, throwing balls of paper into trash cans from afar is a reliable time waster for workers — and now iPhone users.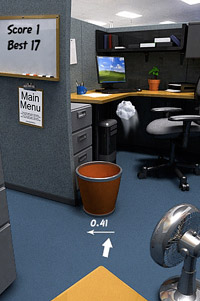 All you need to do to play is flick the screen to send the paper ball in the general direction of the trash can. Well, maybe that's not all there is… a pesky fan can send your paper flying in the opposite direction. Your job is to toss the paper at an angle that accounts for the given level of wind resistance in order to still reach the trash. It's unbelievably addicting — like me, you might find it hard to walk away. All in all the game is really well done with great visual settings and enough variables to make mastering it a challenge.
Based on Will Ferrell's not-so-well-received summer movie, Land of the Lost, the iPhone game from NBC Universal is still a hit. You can get it in the App Store for free and weave your way around endless obstacles to get through its 25 unique levels. There's not much pizzaz to the game — you'll know exactly what to expect after the first level — but the difficulty of cracking each puzzle is reason enough to continue playing.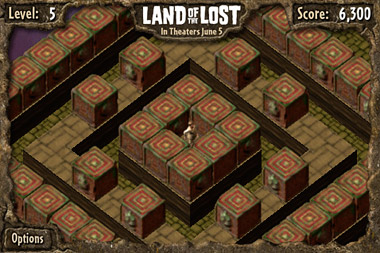 The main goal is to lead Will Ferrell's character to the end of each level by pushing big boxes/crates out of the way and into the right places. One bad move can leave you with a shortage of boxes to help you make it past the obstacles, so bit of strategy and forward thinking is required. It can be frustrating to move the character to the exact spot you had in mind (tap the screen precisely), but an undo button helps with that and makes this a fun game nonetheless.