Do you often find yourself hunting down the same files, folders, and applications over and over again? With Blast in your Mac's menu bar, these frequently accessed items are always within reach.
Blast ($9.95) is a convenient Mac application from Apparent Software that sits in the menu bar and offers easy access to recently created or opened files. That means no more searching or digging through Finder to locate a file or folder you've been working with. It's a smart idea and the software's implementation is impressive as well.
After launching Blast, an icon will appear in the top menu bar. Clicking on this icon will reveal a list of recent items which can be filtered by type – documents, images, videos, audio, folders, and applications. The list automatically accumulates more files as you open, create, and modify them on your Mac. There's a sidebar with fixed icons, which can be changed based on the user's preferences. Just drag an existing sidebar icon away to remove it or drag an item from the recents list onto the sidebar to add it.
The user interface is smooth, visually appealing, and very simple to work with. Each item's file path is shown below its name, the window can be resized to show more or fewer items, and right-clicking an item reveals additional actions. These include renaming, opening, excluding, or showing the file itself.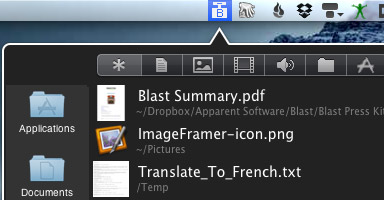 Some may question why such an application is necessary when there is already a Recent Items list under the Apple menu. I wondered this myself until I started using Blast and realized what set it apart. The most prominent difference is that Blast can be operated without ever touching a mouse. The keyboard shortcut Ctrl+B brings up the Blast window and the arrow keys help navigate & filter through the results with no clicks. In addition, files can be dragged from Blast directly to other applications, whether they're running or sitting in the Dock. Blast even shows small previews of each file to help identify different files of the same format. Overall, it's just more accessible and customizable than Mac OS X's built-in Recent Items menu.
After working with Blast for a bit, I definitely see the value it offers Mac users. Blast's easy access to files downloaded from the internet certainly beats rummaging through a cluttered Downloads folder. And it's great for those times when you ask yourself, "Where did I save that file I was working on a little while ago?" Since it's right there in the menu bar, that's no longer a concern. For those in search of a way to boost productivity on their Macs, Blast is worth a look at a price of $9.95. Check out Apparent Software's website to learn more or download a trial.
Win a free copy of Blast for Mac!
The developers of Blast (regularly $9.95) have been nice enough to offer free software licenses to 3 lucky MacYourself readers! To enter, please leave a comment below, along with a valid email address (this is how we will contact you). In order to avoid spam filter issues, please type a coherent sentence saying you'd like a chance to win. Make sure you're running Mac OS X 10.5 or later since this application won't work with anything older. Multiple entries will be deleted, so please only add one comment per person. And finally, don't worry if your comment doesn't appear on the site immediately — it might be awaiting moderation and will show up shortly.
The winners will be chosen at random based on the comment numbers they happen to be. The lucky guys or girls will be announced on this page, so save this article's URL and be sure to check back later. All entries must be made by August 8, 2010 at 11:59pm eastern U.S. time. In the meantime, download the free trial of Blast and take advantage of having your recent files at your fingertips. Good luck!
UPDATE – August 9, 2010:
Congratulations to our winners MJ, Beth, and FiZ! Their comment numbers were chosen from a random number generator and they have each been given a free copy of Blast for Mac! Thanks to everyone who entered and remember to consider purchasing Blast yourself.