Ever had an old or unwanted email address keep popping up in Mail when you begin typing the name or address of your intended recipient?
Say one of your contacts changes their email address. You update their listing in Address Book to reflect the new information, but Mail still has their old address in its database and the auto-complete feature continues to display it as a suggestion. It's no big deal, but if you have a lot of contacts this can become one of those things that sticks in your head and makes you crazy trying to figure out how you can clear out the junk.
This tip can also become useful for getting rid of those who you only emailed a handful of times or no longer communicate with. If the person's name was John Appleseed, for example, and you have another contact with a similar name such as John Moon then the unwanted John might come up first. Again, no big deal but an annoyance nonetheless.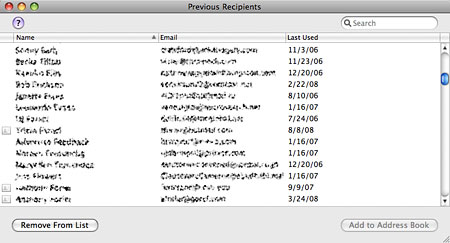 Removing email addresses from the Previous Recipients list in Mac OS X Mail
To see a list of everyone you've ever sent an email to, go to Window > Previous Recipients in Mail. The window that comes up will let you sort by the person's name (if available), email address, and last date used. There is also an indicator to let you know if each entry is currently in your Address Book, with the option to add them if you choose. For the purpose of this article, however, we're interested in the Remove From List option on the bottom left. Go through the list one-by-one (which can get tedious) or specifically search out the ones you know are causing an inconvenience. To select a series of addresses at the same time, hold Shift or Cmd on your keyboard as you would for selecting multiple files in Finder.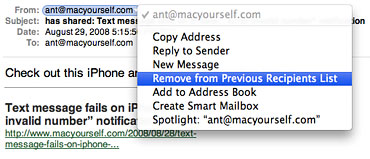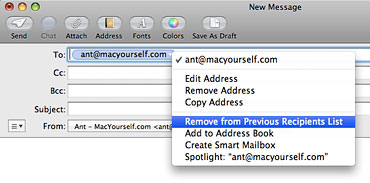 Another way to erase an email address from the Previous Recipients database is to click on the unwanted email address on a message that has been sent, received, or is currently being composed and choose "Remove from Previous Recipients List" on the drop-down menu. Using this option right away when you know you won't be using a particular email address again will help manage the Previous Recipients list and keep it from growing too large as time goes on.