Remembering passwords can be quite the challenge, which is why many people simply let their Macs do the work and save them in Keychain Access. But what if you need to look up that password?
Passwords are a pain. Let's just get that out of the way right off the bat. Unfortunately, they're a necessary part of our electronic lives and it will only continue to get worse as we sign up for more online accounts, connect to more networks, etc. One of the best ways to ease this pain is to utilize one of Mac OS X's long-time features – Keychain Access. This program, located in Applications > Utilities, is where all of your Mac's saved passwords and authorization codes are stored.
For example, if you sign in to your web-based email account and check the option to "Remember my password" in your browser, it goes straight to Keychain Access. Let's also say you have a wireless network at home with access protected by a WPA or WEP code. Entering that code in your Mac to connect will create a new entry in Keychain Access. With all of this sensitive information floating around you can rest assured Apple has locked down and encrypted the data in this application.  It sure beats keeping everything written down on an easily misplaced or stolen piece of paper.
But if you're trusting a program to store and automatically enter this personal information when needed, what happens when you need to retrieve a password and have long since forgotten what it is? No worries, Keychain Access lets you look up your saved passwords.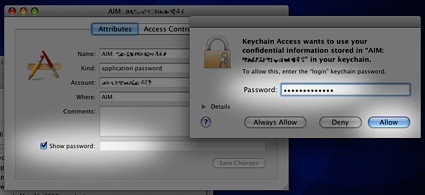 Simply open Keychain Access and select "Passwords" under the Category heading. Find the piece of information you're looking for (or search for it at the top-right corner of the window), select its listing, and press Command+I on your keyboard. In the window that pops up you will see a "Show Password" checkbox. Click on it and enter your Mac's user or administrator password to unlock the data. Make sure you select "Allow" and not "Always Allow" when confirming your request. Your recovered password should now be visible in the text box. All done!