With the Sticky Notes app, you can set yourself a reminder or leave a friendly message and see it every time you wake your iPhone or iPod touch— without needing to unlock it.
I'm the first to admit how unbelievably forgetful I am. No matter how hard I try, things just have a way of leaving my mind 5 minutes after I think of them. Of course, I'm not the only one with this problem — you may even suffer from it occasionally too. If that's the case and you happen to be the proud owner of an iPhone or iPod touch, Sticky Notes from Air-O-Matic may be one of the most useful apps you'll ever find.
Available from the App Store for $1.99, Sticky Notes is a tool that lets you create short notes to yourself and then saves them as your iPhone's wallpaper. Unlike other programs (including Apple's own Notes app), you don't even have to unlock your iPhone to see what you wrote. Just wake the device and there it will be for quick & easy viewing.
Creating a note in Sticky Notes is extremely simple. Tap the plus (+) button in the upper-left corner and start typing your message. It can be anything from a quick shopping list to an important birthday reminder. To give users some opportunity for customization, the developer has integrated functions which change the note's background color, font, and text size. The options are limited, but they're fairly unimportant compared to the content of the note itself. Multiple notes can be created and stored in Sticky Notes for later editing, but only one can be set as the wallpaper at a time.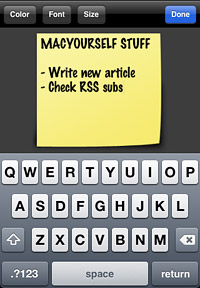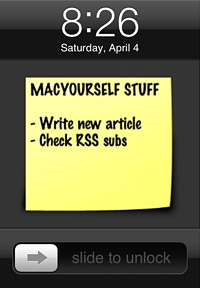 While the first half of the process is pretty much as effortless as anything can get, the second half involves a little more work on the user's part. Since Apple does not allow 3rd party applications to change the device's wallpaper directly, Sticky Notes merely saves an image of your note in the Camera Roll. This means you have to go into your phone's Photos section, find the image Sticky Notes created, and set it as wallpaper manually. It's not a time-consuming task, but it is nonetheless a minor inconvenience which can be annoying. However, as previously mentioned, this is an Apple-imposed limitation and it doesn't take away from the overall value of the app to those who need it.
Wrapping things up, Sticky Notes is built on a fantastic idea and the execution is well done considering the roadblocks thrown out by Apple's SDK. I can't tell you how many times I've forgotten to even look at the built-in Notes app when I've left messages for myself. With the Sticky Notes approach, however, reminders are right in front of my eyes every time I turn my iPod touch on. If you're the forgetful kind, you won't regret spending $1.99 for this handy app on the App Store. In fact, you'll probably even find it to be a bargain after using it a few times and seeing how functional it is in everyday life.
Sticky Notes Wrap-Up
Pros:
Shows convenient notes & reminders on the iPhone's wake up screen without the need to unlock
The repetition of seeing notes every time the phone is turned on helps to remember them
Ability to change note's color, font, and text size
Intuitive and visually appealing interface
Cons:
Apple does not allow setting the wallpaper directly from 3rd party apps