Almost like a Swiss army knife of sorts for the iPhone and iPod touch, iCatchall offers a solid mix of 16+ worthwhile utilities and pointless distractions in one app. At a low price of 99 cents, it's a package deal that's hard to beat.
There is a ridiculous number of applications filling up Apple's App Store (over 20,000 and counting), many of which don't do a heck of a lot on their own. And yet people continue to buy and download them individually, one at a time. For example, on your iPhone you may have a tip calculator, flashlight, ruler, fart noises, and more all taking up icon space on your home screens. Wouldn't it be great if all of these tiny single-function apps were combined to create one super multi-function app? That's what the folks at Headlight Software were thinking when they developed iCatchall for iPhone and iPod touch. It packs a whopping 16+ tools and time-wasters all together for just $0.99 on the App Store.
Now, while iCatchall was built to do a lot of stuff at once, the question is does it do any of it well? Yes and no. Some of its best features (which I'll get to soon) are worth way more than 99 cents alone, but there are far more misses than hits when you look at the overall package. Nonetheless, there's so much here that even just a few high points are enough to make this app worth checking out.
In my view, the reason any iPhone or iPod touch user must have iCatchall is the File Storage feature. Unlike other iPods which have Disk Mode, Apple's Multi-Touch devices lack the ability to store files in their memory like a USB flash drive. To get around this limitation, iCatchall utilizes a wireless network connection to view & transfer files between Macs, PCs, and other iPhones. No software or setup is required; all that matters is they are connected to the same WiFi network.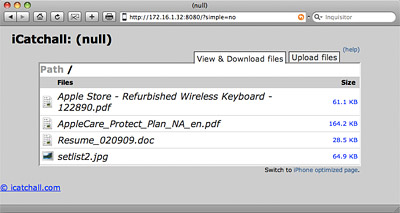 Simply launching a web browser and typing in the provided IP address opens up a page for downloading and uploading a wide variety of file types to and from the iPhone. Once they're on the phone, files can be organized by folder, renamed, and deleted right from iCatchall. It's a practical implementation and a very user-friendly utility.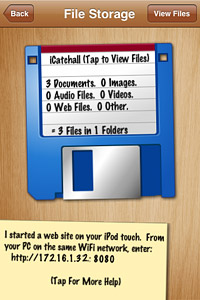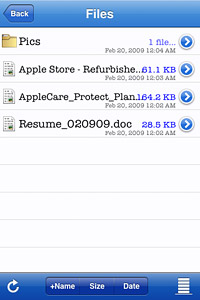 Aside from File Storage there are also a few other nifty mini apps built into iCatchall. Tools like Tip Calculator, Measure, Level, and Flashlight (which can display a variety of colors) work well and can certainly prove helpful in real-life situations. I must admit even the seemingly pointless Tap Counter entertained me for a while as my fingers raced wildly on the screen to see how fast I could go. As for the other Fun Stuff and Sound Effects, there's really not much worth mentioning. They might be interesting the first time, but the novelty wears off rather quickly. The developers seem to have recognized this and even created a separate version of the program called iCatchall Tools (also for 99 cents on the App Store), which strips out the nonsense and just gives you the good stuff.
Although it's not anywhere near perfect, there's no arguing the pure value offered by iCatchall. At a small cost of $0.99 there's no reason not to give it a shot, if only for File Storage and some of the other handy tools. The developers promise to continue integrating even more useful features into the all-in-one application as well, so it should only get better with time. You can purchase iCatchall directly from the App Store or check out Headlight Software's website for more information. There's even an iPhone parody commercial to show off the software's features on YouTube.
iCatchall Wrap-Up
Pros:
Incredible value considering most other apps do far less for more money
Saves home screen icon space
Simple and organized user interface
Easy to use File Storage over wireless network
Good collection of features that will come in handy when needed
Cons:
Occasionally encounters minor interface bugs/glitches
Half of the 16+ included apps are mostly filler