If you like to take snapshots on your iPhone's built-in camera, Pano is a fun and useful application that seamlessly stitches a series of photos together into a single wide panoramic image.
Have you ever wanted to take a photo of a large setting (perhaps a wide-ranging outdoor landscape) and not been able to capture the entire scene in one frame? It's frustrating to have to change location and potentially ruin the great view from your original position. Specialized equipment or software are normally required to achieve this kind of functionality without moving yourself back, but it is now available for just a few dollars on Apple's App Store. With Pano ($2.99) from Debacle Software, you can turn your iPhone into a panoramic camera with ease.
Right off the bat it's easy to tell the application's interface is well-polished, intuitive, and simple to use. The first step towards creating a panoramic photo on your iPhone is to take your initial leftmost shot. Merely press the green Camera button and Pano will display & ask you to confirm that you're satisfied with the image before moving on. If it's good, you will be instructed to turn slightly right and frame your second shot. Pano's developers smartly integrated a valuable feature which shows a translucent overlay of your previous photo's edge, helping you line up elements in the next image. It truly does not get any more straightforward than that and it's the perfect implementation of such a concept.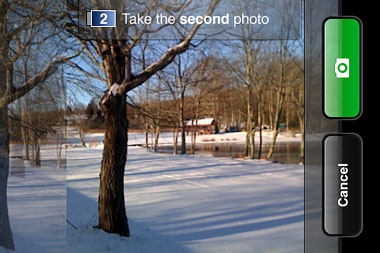 As of version 2.0 of the software, Pano allows users to take up to six consecutive photos before merging them into one large image up to 3600×600 pixels in size. Of course, you can choose to stop early at two, three, four, or five pictures if you'd like. In this particular case Pano's simplicity may actually hurt it — at least initially. Having only two elements to interact with (the green Camera button and the black Cancel button) means options like switching to Portrait mode or merging photos immediately are a little hard to find at first. While the word "Cancel" might be a bit misleading, rest assured the photos you've already taken won't be discarded without you explicitly doing so. Once the pictures have been merged, the final panorama will automatically be placed in the iPhone's camera roll where it can be viewed, emailed, or synced back to a computer.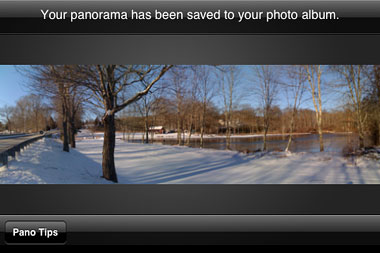 Now, the most important part of evaluating any piece of software is figuring out if the intended results are actually attainable. While other panoramic photo applications for the iPhone are hit or miss and clunky to use, I have consistently had good luck creating excellent panoramas with Pano. It's not perfect every time, but its powerful image blending and color correction capabilities do a great job. The overlapping transitions between each photo are often difficult to notice, which means you can expect a higher quality image overall. It's even more impressive when you consider that all of this is being done on a device as small and convenient to use as the iPhone. For more information, check out Debacle Software's website or purchase Pano directly from the App Store for $2.99.
Pano Wrap-Up
Pros: 
Wide panoramic photos on your iPhone
Stable and intuitive to use
Extremely simple and polished user interface
Translucent overlay to help line up each shot
Portrait or Landscape mode
Excellent image stitching quality
Cons:
Scales down iPhone camera's native image resolution
Limited to six photos (full 360 degree panoramas would be a killer feature)
Somewhat misleading Cancel button to reach menu items