YouTube, the world's most popular video-sharing website, has recently introduced the ability to upload 720p high definition videos. Here's how you can view and — even better — download them to keep on your Mac.
Traditionally, the video quality on YouTube has been dismal at best. The tiny video dimensions and extremely low bit rates were disappointing, but the YouTube folks have taken a big step in the right direction. High quality 720p HD videos are now available on some of the site's newer uploads! They're not particularly common yet, but as time goes on you can expect to see more and more HD content on YouTube. 
To view high definition versions of videos (if they're available), simply add &fmt=22 to the end of the video's URL. For example, the trailer for Jim Carrey's new comedy Yes Man (highly recommended, by the way) is available at http://www.youtube.com/watch?v=4PSdSQYVV9k. This will give you the standard definition version, but going to http://www.youtube.com/watch?v=4PSdSQYVV9k&fmt=22 will lead to the 720p version. The difference in video quality is truly stunning.
Now that you're seeing that video in all its HD glory, wouldn't it be great to download it to your Mac's hard drive and keep it for your own future viewing? With Safari, it's unbelievably easy!

Once you're viewing your video (whether it's in standard definition or high definition), go to Window > Activity in the menu bar.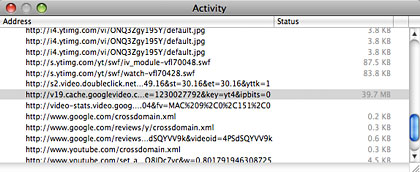 You'll see a list of items with file sizes next to them. Most will be very small — a few kilobytes or so.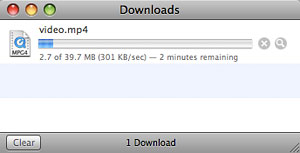 When you see one that's relatively large (for example, the Yes Man trailer is 39.7MB), double-click it and the download will automatically start. Good to go!