One of the key productivity tools I use on a daily basis is the dynamic spell-checker built into the contextual menus of many Apple-made applications.
Say you're typing a document in a text editor such as Pages or TextEdit and you happen to misspell a word. You're probably aware of one way to correct the error, which is to go to Edit on the menu bar, trigger the Spelling and Grammar window, and view the suggested replacements. But did you know there's an easier and quicker way to access this functionality?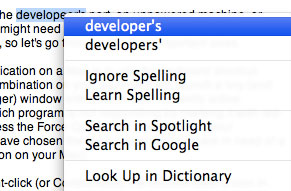 Instead, next time you see a word underlined in red simply select and right-click on it. A compact popup menu will appear with a list of potential corrections, along with the ability to ignore the misspelling or have Mac OS X's dictionary learn your spelling if you know it is correct. This is particularly useful when non-standard words like names are being typed and you don't want to be bothered each time it is used. I've found the on-the-fly method of using OS X's contextual menus to be much more efficient than spell-checking an entire document at once with menu bar commands. In addition to Pages and TextEdit, it works in programs like Numbers, Keynote, Safari, and Mail among others. 

If by some chance you teach the system's dictionary the wrong spelling of a word, don't fret. You can undo your mistake by opening a TextEdit document, typing the word, and right-clicking after selecting it. An option called Unlearn Spelling will be there. Keep in mind that this menu selection only appears for words you have added to the dictionary, not ones that are already there by default.