As great as the iPod is, it boggles my mind why Apple doesn't include a Date Added view to sort music like you can in iTunes. If you're in the same boat, here's how you can create the feature yourself.
Most people have ever-changing musical tastes or moods and use the sorting options in iTunes to list their entire music library from newest to oldest, based on the date each song was added. It's a nice way to keep everything you're currently into together to access all at once. So while that works great when you're on your computer, what about when you're on the go with your iPod? Suddenly you're limited to choosing your music by the Artist, Album, Song, Genre, and Composer views Apple has built into the iPod software. The lack of a Date Added view is a huge, glaring oversight that has remained since the gadget's introduction in 2001.
Yes, I'm aware that iTunes automatically generates and copies a Recently Added playlist to the iPod. The problem with this is that the playlist only covers media that's been added in the last 2 weeks. What if I want to go back 3 or 4 weeks — or even a couple months? I'll never know exactly how far back I want to go at any particular time until I randomly decide. Therefore, there has to be a better way to tackle this problem.
It just so happens that there is an easy and (mostly) effortless way to create your own Date Added view on your iPod! To start off, open iTunes and go to File > New Smart Playlist. In the window that comes up on your screen, set the rules as shown in the screenshot below.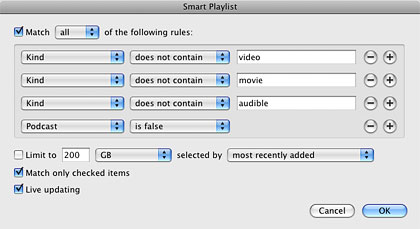 Basically, it is telling iTunes to create an automatically-updating playlist of all the media in your library minus any videos, podcasts, audiobooks, etc. you may have. Of course, you can always skip those conditions if you choose to keep them in your playlist. Ensure the two checkboxes on the bottom are checked to keep things clean and manageable if your library is large and constantly growing. Click OK.
Now, the job of creating the playlist is complete and you should see all of your music files. Before you sync it to your iPod, however, there's one important thing left to do… sort your playlist by clicking the Date Added column so the most recently imported files are at the top in iTunes.
It's now safe to sync your iPod with your iTunes library. Once the playlist is added to your iPod you can browse through it and see how Apple should have done it in the first place. Sure, creating a Smart Playlist is a somewhat clunky workaround, but at least it works!