Literally everyone on Earth has an iPhone, iPad, or iPod touch by now, right? That's a lot of people who would love to receive accessories for their iOS device this Christmas. With so many interesting products out there, you're certain to find something for everyone on your list.
Don't panic, but there's only two more weeks until Christmas! With the big day rapidly approaching, it's time to check off all the names on your shopping list. Or, for the purposes of this article, at least all of those who own Apple products. Our iPhones and iPads play such a large role in our lives that getting a cool new accessory can be just as good as getting a whole new device! There are thousands of compatible products out there, but we've got a nice collection of 11 iPhone and iPad accessories that are sure to pique your interest and get you started.
Price: $61.62 (previously $99.99)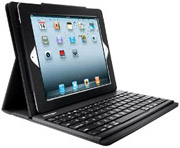 The iPad isn't quite a laptop replacement, but with this product it comes real close. It acts as a stand, protective case, and wireless keyboard for the iPad 2. When in use on a table or desk, the laptop form factor makes iPad typing a whole lot easier.
Price: $94.99 (previously $99.00)
The ultimate iPhone and iPad accessory comes in the form of this little box that connects to a HDTV. Music, videos, photos, games, and more can be wirelessly beamed from an iOS device directly to the Apple TV. Not to mention, media can be streamed from iTunes on a Mac or PC and movies can be rented right on the TV.
Price: $159.00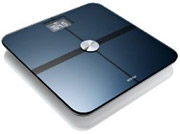 Who knew a scale could be so high-tech? This body scale is perfect for fitness and diet freaks. You step on to weigh yourself, then the scale wirelessly sends the data to your account, which can be accessed with iPhone and iPad apps. It's a great way to track long term progress on weight, fat mass, BMI, etc.
Price: $7.04 (previously $9.95)
Have you ever watched a movie or listened to music on your iOS device, but wanted to share it with a friend sitting right next to you? This adapter solves that problem by splitting the headphone jack into two. Now both of you can listen together.
Price: $11.54 (previously $19.99)
Steve Jobs once said that companies who shipped phones and tablets with a stylus "blew it." And he was right… our fingers are much better for input on a screen. Unless, of course, you're using an iOS app for drawing or sketching. In this case, a stylus designed for touchscreens is a big help for your artistic creations.
Price: $62.40 (previously $69.99)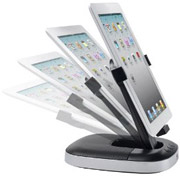 Let's not forget that the iPad is an iPod too. This product pumps out terrific sound quality from your iPad and fills the room with music. It also serves as a great place to store and charge the iPad too.
Price: $23.99
Live in a cold climate? The gloves most of us wear make it impossible to use an iPhone or iPad on the go. Since the skin isn't making contact with the touchscreen, it can't register taps and swipes. This special type of gloves, however, are made with materials that are compatible with touchscreen devices so you don't have to keep taking them on and off.
Price: $6.55 (previously $29.84)
Charging an iPhone in a car that doesn't have USB connections is a pain. Rather than buy an expensive charger that can only be used in the car, this affordable adapter makes any car compatible with the iPhone's regular USB cable.
Price: $10.99 (previously $19.99)
The USB cable that comes with iOS devices is only about 3 feet long. If that's not long enough for your syncing and charging needs, this cable is cheaper than Apple's and twice the length.
Price: $56.95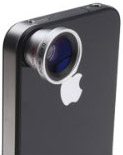 The iPhone's camera is so good that most people don't even need a real camera anymore. This kit aims to take iPhone photography to the next level by offering different lenses that can be attached to the back of the phone – wide angle, fish eye, and telescope. It comes with a mini tripod and case, as well.
Price: $29.39
The iPad's beautiful 10″ screen is perfect for looking at photos. Syncing with a Mac or PC is inconvenient, though. The best way to get photos on an iPad is with Apple's Camera Connection Kit, which supports USB connections and SD cards.
Prices accurate as of 12/11/11 and are subject to change. Please note that some of the products listed above have not been tested by MacYourself. They are presented here for informational purposes and not necessarily as endorsements.