iPartition is an invaluable tool for Mac users who need to create, delete, resize, move, or clone partitions on hard drives. It works with internal and external drives without destroying any of your irreplaceable data.
As many Mac users know, OS X's Disk Utility includes some rudimentary partitioning features. Unfortunately, its resizing capabilities have always been hit or miss. Moving partitions is impossible altogether. And a lot of what Disk Utility can do requires the user to reformat the disk first. Data loss is not an option for most folks, so a third party tool is needed in order to get the job done.
iPartition is a Mac application created by Coriolis Systems, and it's available for $44.95 through the developer's website. The software lets users modify a hard drive's partitions as they see fit, without reformatting. For example, you might want to split your Mac's 1TB hard drive into two partitions so you can dual boot Mac OS X and another operating system. Or maybe you've already got a split disk and you want to get rid of the extra partitions so it has just one. iPartition can do this and more with ease – and without losing any data.
How it works
While I was putting iPartition through its paces for this review, I worked with a 500GB USB external hard drive that I use for a number of purposes. It has my Time Machine backup on one partition, while the second serves as extra storage space for larger files I don't keep on my MacBook Pro. Since my 200GB Time Machine partition was full and the 300GB storage partition had less than 100GB of data on it, I decided to resize both partitions to allocate more space to the Time Machine side.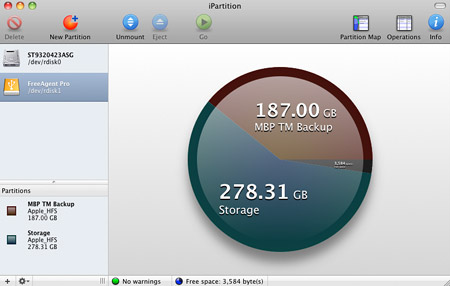 iPartition's simplicity and ease of use was impressive, considering disk management can sometimes be a complicated matter. It was immediately evident that the developers put a lot of effort into making the software approachable for novices without sacrificing features. To get started, I just selected my external drive from the list on the left. A basic pie chart was displayed to illustrate the disk's layout.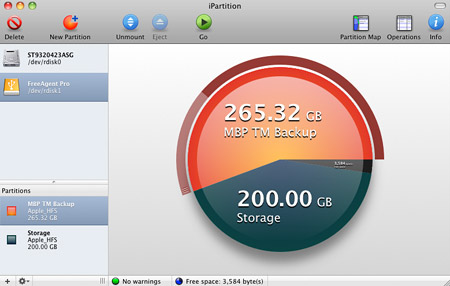 I selected the storage partition first and an outer ring appeared. It showed how much data was there (the darker portion) and how much free space was left (the lighter portion). On the end was a resize handle that could be dragged to decrease the size of the partition. I reduced the 300GB storage partition to 200GB, which created unallocated space on the disk. Next, I selected the Time Machine partition and dragged its resize handle to take over that 80GB of unallocated space.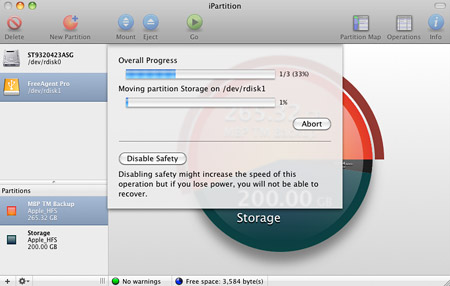 With my changes made, I clicked the Go button at the top of the window and let iPartition do its thing. It took a couple hours to complete the task – probably because there was so much data on the disk – but it worked perfectly. None of my data was lost on either partition and Mac OS X instantly recognized the new partition sizes. Time Machine ran its next backup without a hitch – especially now that it had more room to work with.
Wrap-up
iPartition is definitely one of my new favorite Mac utilities. It is powerful enough to impress those who know what they're doing, yet simple enough for non-techies to get the job done. It's fairly common for Mac users to want to create, delete, resize, move, or clone hard drive partitions. They just rarely have the tools to do it. Where Mac OS X's Disk Utility falls short, iPartition steps in with non-destructive features for modifying HFS+, FAT, and NTFS partitions.
It should be noted that iPartition cannot modify your Mac's internal drive while booted into Mac OS X. You'll have to create a bootable DVD by going to iPartition in the menu bar, then "Create Boot Disk." This is a necessary step to give iPartition exclusive access to the drive so it can avoid potential conflicts. Even in the unlikely event that something does go wrong – such as power loss during repartitioning – iPartition has safeguards built in to ensure your disk can be recovered.
iPartition is not cheap, but with the ability to do just about anything imaginable when it comes to hard drive partitioning, it's well worth the $44.95 price tag if you have a need for its features. Visit Coriolis Systems' website to learn more and download a free trial.