Most of the common problems Mac users have with iPhoto are easily resolved by rebuilding the program's corrupt library. You'll be up and running in no time.
Apple's award-winning iLife suite is known for its simplicity and ease-of-use, but that doesn't stop it from hiccuping every now and then. The application may not open correctly, a photo could be missing, or some of your image thumbnails could be out of whack. A vast majority of the time, iPhoto's library database merely gets confused and needs to start over again. That doesn't mean you'll lose your photos or have to import them again — iPhoto just needs to be told to reindex the files.
To initiate this activity, quit iPhoto completely. Press Option+Command on your keyboard and hold it as you re-open iPhoto. You will be brought to a somewhat overwhelming dialogue box that presents a series of options. If you're not quite sure what's causing the problems you're having, the safest bet would be to select the checkboxes next to all of them. It might take a bit of time depending on the number of images you have, but it will often yield the best results.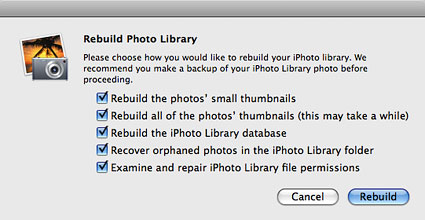 Click the Rebuild button and iPhoto will do its thing with no need for involvement on your part. Once it's finished, your entire photo library should (hopefully) be available and fully functional again. Simple enough, right?