If you're clumsy or a bit paranoid about damaging your precious Mac, iPod, or iPhone, Speck's protective cases do a good job of helping keep them out of harm's way.
I'm a big technology buff, but sometimes I can get a little rough with my electronics. It's essential that I have my expensive toys guarded pretty well so they aren't quite so prone to scratches, dings, or dents. Whenever I get a new Apple product, I find myself checking out what Speck's offerings are because I've been happy with previous products I've purchased from them. They're not perfect, but they've got something for pretty much every Apple product out there and have withstood most of the torture I've put them through. I would assume that means they'd most likely handle nearly everyone else's daily wear & tear with ease.
So here I'm going to do an overview of the protective cases by Speck that I've used before and hopefully give you an idea of what to expect if you're thinking about trying out their stuff for your Mac, iPod, or iPhone in the future.

Speck ToughSkin Case for 2G iPod nano (Purchase at Amazon.com)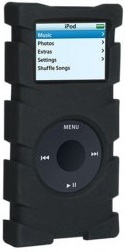 This thing is pretty much perfect for my needs. It's rubber casing is rugged and the screen protector works well without being noticeable. It also has a useful belt clip, which is a common feature on most of Speck's products.  I hate putting things in my pocket, so this gives me easy access and great protection at the same time. There are openings for all of the necessary connectors and buttons too, which means there isn't a loss of functionality.
There is a downside in that it wore out after a while. The iPod kept falling out because the rubber got stretched from constant use and wasn't as tight as when it was new. Bear in mind, however, this was a year and a half after I bought it. I purchased a second one to replace it, but the belt clip seems to have a defect that prevents it from being snapped off when I don't need it.
Here's an interesting anecdote with some good and bad news about this case's features… I had a 1st generation iPod nano with a similar case from Speck that got run over by my Jeep. Surprisingly, the great rubber casing would have saved it from being squashed like a bug, but the hard plastic clip ended up being crushed into the metal backside of the iPod. I love the belt clip feature, but that was the end of my nano.

Speck ArmorSkin for 1G iPhone (Purchase at Amazon.com)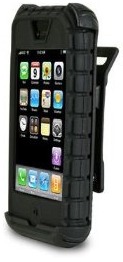 Unfortunately, this isn't one of Speck's greatest efforts. After fiddling with it for a while, I ended up getting a different case for my 1st generation iPhone because it just wasn't worth the trouble. Like the iPod nano case, the rubber skin provided excellent protection from drops and scratches, but the total package was lacking.
To start, it added way too much bulk, which ruined the sleek body of the device. It got stretched and worn out after only a month this time, occasionally causing the phone to unexpectedly jump out and fall to the ground. I was aggravated to find using the headphones to be a little troublesome due to the rubber casing being too thick around the tiny hole. Of course, the original iPhone's recessed headphone jack didn't help. Finally, the plastic belt clip was (for lack of a better term) horrendous. It couldn't latch on tightly to my belt and often became detached from the rest of the case when I was moving around.

Speck See-Thru Hard Case for Macbook Pro (Purchase at Amazon.com)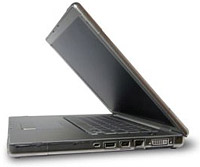 I have been very pleased with how well this hard plastic case protects my Macbook Pro from potential falls and assorted freak accidents. I don't have to worry as much about being so delicate with my multi-thousand dollar investment, which makes traveling with it a lot less intimidating. For the most part, I don't even notice it's there because it gives easy access to all the ports on the sides, as well as the IR sensor and latch release button. The rubber feet grip whatever surface they're on really well — more so than the ones already built into the system. Perhaps one of the best things I've noticed is that it actually makes the laptop cooler to the touch when it's on my lap since plastic doesn't conduct heat as well as aluminum. That added perk may be worth the price alone.
The cons to this case are fairly trivial because they don't really affect me on a daily basis. It does add a bit of weight to the notebook, especially the top lid. Leaving the lid partially open isn't really an option because it just falls under the weight of the heavy plastic cover. I would recommend cleaning both the laptop and the case semi-regularly because dirt tends to get trapped underneath (the slots on the bottom are the worst culprit). In addition, if you need to swap out batteries often you will quickly get annoyed by the inconvenience of having to take the bottom half of the case off each time. I don't see any of these issues being a big problem for most people, though.
Unless money is no object, having some kind of protection for a computer that costs as much as a Macbook Pro is almost mandatory. Overall I feel like this is a solid product that does what it's supposed to do without too many sacrifices or flashy features. I continue to use it with no real problems and will probably be looking for something similar from Speck for my next computer purchase.