It's a somewhat common problem for iPhone, iPad, and iPod touch users to find events synced to their calendar application have the wrong start and end times when compared to the iCal versions on their Mac.
A few weeks ago I noticed some new appointments I entered in iCal on my Mac were not syncing correctly to my iPhone. One event I created for 11am was oddly showing itself as 2pm. And another later that day was displayed as 5pm instead of the 2pm entered in iCal. If I corrected the error on my iPhone and synced to my Mac again, now iCal would have the wrong start and end times. It was pretty frustrating, to say the least.
Upon further research, I discovered this is actually an issue many people with iOS devices experience. Surely there must have been a software glitch to blame for all these headaches, right? It turns out that wasn't the case. Neither iCal on my Mac nor the calendar app on my iPhone were configured to handle time zones correctly. Here's how I fixed the issues:
Configuring iCal on a Mac
Assuming you're using a Mac and not a Windows PC, the first place to go is iCal preferences. Under the Advanced tab, is "Turn on time zone support" enabled? If not, check the box to enable it. Now in the upper-right corner of the iCal window you will see a drop-down box with the current time zone and an option to change it. Every time you move between time zones and work in iCal, it would be a good idea to make sure this setting is correct.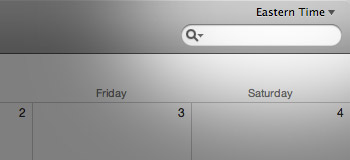 Configuring calendar on an iPhone, iPad, or iPod touch
The most important part of solving this issue is changing your iOS device's time zone settings. To do this, go to Settings > Mail, Contacts, Calendars and scroll to the bottom of the list until you find Time Zone Support. Tap this field, switch Time Zone Support to the on position, and select the correct time zone below.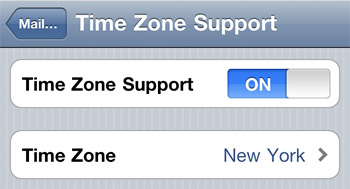 After completing these steps my iPhone no longer displayed wrong calendar event times and accurately synced with my Mac. The cause of all my troubles was that my Mac was set to Pacific time, while my iPhone was incorrectly set to Eastern time – hence the persistent 3-hour difference.
From what I can tell, calendar time zones on all devices need to be manually changed every time a user travels. If anyone knows a way to make it happen automatically, please share in the comments!