When your Mac isn't behaving as it should, there are a series of keyboard shortcuts you can use during startup to help diagnose the issue. Be prepared at all times with Startup Shortcuts for iPhone and iPod touch — a reference guide for troubleshooting your Mac.
Even though Apple's App Store is filled with games and random nicknacks, those aren't the categories that always excite me. Instead, my favorite types of apps are the ones that make the Mac experience better. There's something about utilizing the power of one Apple device to improve another that just gives me a warm fuzzy feeling inside. If you feel the same way, you might want to take a look at Startup Shortcuts ($0.99) from developer Eric Barbosa.
Startup Shortcuts is the kind of iPhone app you won't realize you need until it's too late. In fact, if you never even launch it once after you first buy it, that might be a good thing. The reason is because Startup Shortcuts is a Mac troubleshooting tool meant for resolving common problems users might face.
For example, did you know resetting the SMC on a MacBook could fix issues involving LCD backlighting, sleeping & waking, trackpad input, and more? Hard core users surely know what steps to take to invoke this process, but most new or casual Mac users are probably not aware of how to go about figuring out the problem. That's how always having Startup Shortcuts a few taps away might save the day.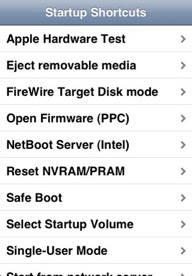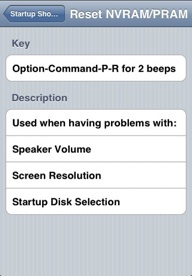 The app's main menu is a simple list of procedures which can be carried out on a Mac with painless keyboard shortcuts. Tapping on one of them will take you to another screen showing the required keystrokes and important information about what kind of scenarios it could be used for. If Startup Shortcuts sounds extremely basic, that's because it is. No frills and no gags. Just the information you need to get your Mac up and running again.
As I mentioned before, this iPhone app may only appeal to Mac users who don't have this group of problem-solving techniques memorized like it was their own name. I wouldn't go so far as to say power users wouldn't find it useful at all. It really comes down to how good your memory is. Mine, for instance, is horrendous. Using another computer or even your iPhone's web browser to frantically look for help in a Mac emergency is an option, of course. Personally, I would rather have peace of mind for 99 cents than waste precious time and energy searching online. Check out Startup Shortcuts from the App Store for yourself and give it a shot. You never know when its convenience might come in handy.
Startup Shortcuts Wrap-Up
Pros:
Easy to navigate menus
Extremely convenient to have when Mac issues arise
Offers a good variety of the most important shortcuts
Includes helpful descriptions about each process to guide the user
Cons:
Interface is bland and almost too simple