If you've ever fumbled around a program trying to find a certain menu item, Leopard's searchable Help section can be a real time-saver.
Every once in a while I'm forced to use a Mac that's running a version of OS X other than 10.5 Leopard and this incredibly useful feature is sorely missed. I use it so often that it's become a natural reflex whenever I need to find something quickly within an application's menu system. So what exactly does Leopard's Spotlight-enhanced Help feature do? Well, for users who are learning a new program or are just plain forgetful when working with everyday applications, valuable time is often wasted going through each section and sub-section on the Menu Bar to track down the location of a desired command.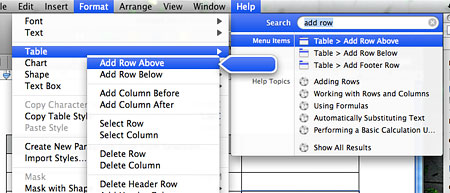 With Leopard, however, manually finding menu items is a distant memory. If you know what you're looking for (in this case, adding rows to a table in Pages), just bring up the Help menu and start typing it out in the search box. While you type, relevant menu items and support documents will display within the menu. As you can see in the screenshot above, Pages has automatically found and pointed out the Add Row Above and Add Row Below options, which can now be selected directly. The entire process is extremely dynamic and responsive to the search text you enter. To streamline the task even more, use the Shift+Command+? keyboard shortcut to launch the Help menu in any application.

Another example of how to use this functionality is if you wanted to know what kind of glow effects were available in Adobe Photoshop. In the Help menu, merely typing "glow" will yield helpful results — Outer Glow, Inner Glow, Neon Glow, Diffuse Glow, and Glowing Edges. Find the one you'd like to use, press Return/Enter on your keyboard and it will be applied to your image. The best part is that the actual menus themselves are opened as you toggle through the available search options, which helps you remember where they are located for future reference.