If you're a neat freak about how windows are sized and positioned on your Mac's screen, Stay is a new application that will make your life better. It's especially useful for those who connect to external displays.
Obsessive-compulsive types often find themselves spending more time fiddling with organizing windows on their Macs than they do getting actual work done. They know exactly how they want them to be sized and positioned, but somehow application windows always get moved around and it's a hassle getting them back in place. If you're someone who belongs to this group of users (such as myself), a new piece of Mac software is perfect for you.
Developed by Cordless Dog, Stay is a $15 Mac application that keeps your windows tidy by making sure they're always in the right place. It stores a profile for each display setup your Mac has, so it knows where to put windows as you connect and disconnect external displays. There's no effort on your part – Stay does pretty much all the work for you.
Stay sits in your Mac's menu bar so it's out of the way, yet always within reach. All you have to do to get started is open your frequently used programs, position their windows just the way you like them, and go to "Store Windows for All Applications" in the Stay menu. If one or more of those windows ever get moved and you want them back where they were, just go to "Restore Windows". It's that simple.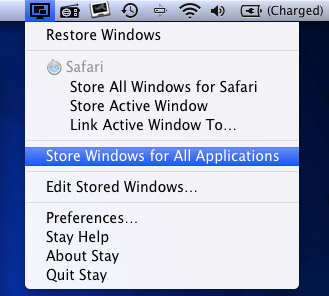 While Stay is nice to have for single-display setups, it really shines when multiple displays enter the equation. Let's say you have a MacBook Pro that is used on the go and also connected to a large external display while at your desk. Just place your windows on your MacBook Pro's display and store them, then do the same for your multi-monitor setup when both screens are in use. Stay keeps a separate profile for each configuration, so it can automatically move your windows as you connect and disconnect the external display.
Like most things, Stay does have a couple drawbacks. For example, it is incompatible with Adobe and Steam products. And, although it supports restoring windows across Spaces, it cannot move windows between Spaces. It is important to note that Stay is only at version 1.1 as of this review, which means improvements are likely to come as the software matures.
The best way to truly grasp what Stay does and how it can fit into your workflow is to try it. I definitely recommend downloading a 30 day free trial and even purchasing a copy for $15 from Cordless Dog's website. You'll be impressed with how lightweight the application is and how easy it is to use. Most importantly, you'll be glad you don't have to mess with moving and resizing windows anymore.