Some owners of the new $99 Apple TV have experienced a frustrating issue when sharing content from their computer. They see an error stating "There are no songs in this library," even though iTunes Home Sharing is set up correctly.
Since the recently-introduced $99 Apple TV
is solely a streaming device, no music, videos, and photos are actually stored on it. Instead, they are all wirelessly streamed from a Mac or PC with iTunes on the local network. Setting up iTunes and the Apple TV to work together is fairly straightforward. All you have to do is enable Home Sharing in iTunes on the computer and the Apple TV will automatically find it. Nice and simple.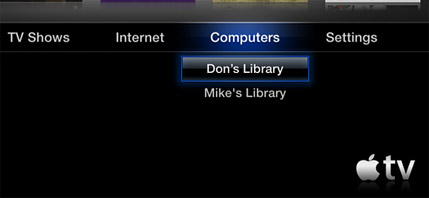 Ideally, the Apple TV will let you browse your iTunes library, including artists, albums, etc. at this point. But some users have found that, even though media content is listed on the Apple TV, it is not accessible. Trying to play a song might result in a "There are no songs in this library" error. Before you waste time troubleshooting network settings and software preferences, try the following.

Go into iTunes on your Mac or PC and ensure that the songs you're trying to play have a checkmark next to them in your library. For some reason – whether by design or just an annoying bug – iTunes Home Sharing doesn't let the Apple TV access unchecked media. The Apple TV will see the content, but it won't play it. Once you check the songs in iTunes they should work as expected. Note that it might take a restart of both the Apple TV and the computer for the change to go through.
Do you have an Apple TV with this problem? Let everyone know if this fix works for you!