FaceTime, Apple's new video conferencing feature for iPhone 4 and the latest iPod touch, requires little to no setup. "It just works" describes it perfectly… except in certain situations.
If you excitedly attempted a FaceTime call on your iPhone 4 only to find out it wouldn't connect, you were probably pretty bummed out. I experienced the same thing when trying to FaceTime with a family member the first time. Any number of things can factor into the reasons why FaceTime won't connect, such as restoring from a previous iPhone's backup, switching carriers, etc. The good news is it's likely a quick fix and you'll be video chatting in no time. Try the following troubleshooting tips (in the order shown) to get started:
WiFi only
As of now FaceTime is restricted to WiFi, so you can't be out and about on the 3G network if you want to video chat. Make sure you're connected to a wireless network at home, work, Starbucks, etc. before attempting a FaceTime call.
FaceTime restrictions
If you don't see a trace of FaceTime anywhere on your phone, it could be blocked. Take a look at Settings > General > Restrictions and see if FaceTime is switched on. If it isn't on, flip the switch to make sure it is.
Switch FaceTime on
Some people have found that FaceTime is there, but disabled on their phones by default. Going to Settings > Phone and switching FaceTime on could be your quick solution. If FaceTime is enabled but still not working, try switching it off and then back on again. It will take a few minutes for activation to go through, so be patient before attempting a video call.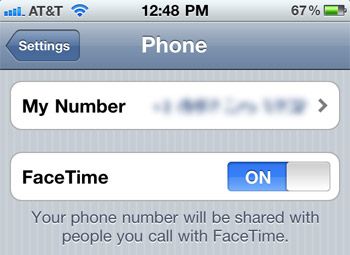 Restart the phone
A restart of the iPhone itself might help the process along. You could try a soft restart by holding the Power button down for a few seconds and swiping the slider off. Or you could do a hard restart by holding the Power button and Home button down at the same time until the screen turns off.
Reset All Settings
We're almost out of tricks, but there's one more up our sleeve. Go to Settings > General > Reset  > Reset All Settings. This will wipe out all of your phone's preferences and settings (including stored WiFi networks), but won't delete any of your data or content. Give it a shot! If it doesn't work, a full restore via iTunes might be your only option.