When you're in the midst of a web surfing frenzy, you will inevitably come across a ton of sites you want to look at later when you have more time. Quiet Read Pro is the perfect way to keep track of these temporary links.
The internet is a terribly addictive place. We set out to do one task and constantly get sidetracked with fascinating content that has nothing to do with our initial mission. In order to stay on track, especially when time is limited, the best thing to do is set aside those cool sites and interesting articles for another day. But how?
There are a couple ways people tend to save URLs for later viewing. First, of course, is taking advantage of bookmarks within the web browser itself. Just add a bookmark for that intriguing blog post and you'll get to it eventually, right? Ha! I've learned from personal experience this method just hides links in a place I will rarely remember to go back to look at. Out of sight, out of mind. How about copying & pasting URLs with a brief description into a single text document? Too much work. Plus, having another window open all the time just creates more desktop clutter.
One excellent solution is Quiet Read from bambooapps. Available in a basic free version and a more feature-filled $9.95 Pro version, Quiet Read is a menu bar application that makes it very easy to save & manage website links for later. It's always there when you need it, but not intrusive to normal usage of your Mac.
Here's how it works: Come across a fun website, entertaining YouTube video, etc. Then select the URL in your browser's address bar or click & hold a link on a webpage. Now simply drag & drop it from your internet browser to Quiet Read's menu bar icon. Alternately, you can drag this Add to QR link to your browser's bookmarks bar so all you have to do is click it to send the current URL to Quiet Read.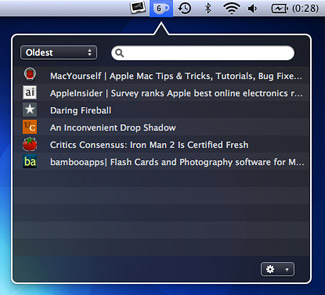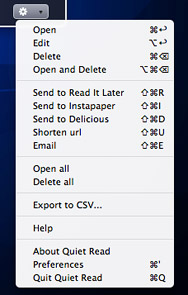 The best part – to me, at least – is that the menu bar icon also keeps a number count of how many URLs are currently saved in Quiet Read. So whenever you have a few minutes to kill, just glance at Quiet Read's icon to see if there are any previously saved links you can check out. Then click on the icon and your list of sites will be revealed. There is a convenient option to "Open All", but each URL can be double-clicked individually as well.
Quiet Read has a number of additional features that makes it more functional to users. For example, keyboard shortcuts are available for opening, editing, and deleting entries. The $9.95 Quiet Read Pro can also send links to Instapaper & Read It Later, shorten links for Twitter sharing, search & filter the link list, and export to CSV. I thought about recommending folders for further organization, but that would almost defeat the purpose of Quiet Read. It is only meant for temporary link saving, not permanent bookmark storage. That distinction is what makes Quiet Read so good at what it does. Think of it as an evolving to-do list for browsing the web.
Win a free copy of Quiet Read Pro for Mac!
The developers of Quiet Read Pro (regularly $9.95) have been kind enough to offer free software licenses to 3 lucky MacYourself readers! To enter, please leave a comment below, along with a valid email address (this is how we will contact you). In order to avoid spam filter issues, please type a coherent sentence saying you'd like a chance to win. Make sure you're running Mac OS X 10.6 or later since this application won't work with anything older. Multiple entries will be deleted, so please only add one comment per person. And finally, don't worry if your comment doesn't appear on the site immediately — it might be awaiting moderation and will show up shortly.
The winners will be chosen at random based on the comment numbers they happen to be. The lucky guys or girls will be announced on this page, so save this article's URL and be sure to check back later. All entries must be made by May 12, 2010 at 11:59pm eastern U.S. time. In the meantime, download the free version of Quiet Read to try out its core features. Good luck!
UPDATE – May 14, 2010:
Congratulations to our winners Michael, Dodie, and Greg! Their comment numbers were chosen from a random number generator and they have each been given a free copy of Quiet Read Pro! Thanks to everyone who entered and remember to consider downloading a copy of Quiet Read yourself.