Although Safari isn't quite as expandable as Mozilla's Firefox, that doesn't mean there aren't some fantastic plugins which can drastically improve its browsing capabilities. One such example is Glims — a free plugin packed with useful features.
It's not often I find a program or add-on that I immediately feel the need to tell people about, but I'm compelled to spread the word about Glims. Even though I've only had it installed for a couple days, it's really made Safari that much more of a pleasure to use. At first glance, Glims appears to be very similar to the popular Inquisitor plugin (now owned by Yahoo!) in that its main focus is making Safari's search bar more powerful. A closer look, however, reveals much, much more.
Flexible search options
Glims boasts far too many features to cover them all in this article, but there are a handful that deserve mentioning. First, of course, is the flexibility it brings to search in Safari. Are you a frequent visitor of sites like Wikipedia, Amazon, or IMDB? Since Safari's default search bar is limited to Google, it can't help you when you want to browse those sites quickly. Glims addresses this issue by offering a massive list of sites you can integrate with the built-in search bar. Some of the other sites it supports out of the box are Yahoo!, AOL, eBay, and Facebook, along with the ability to add more of your choice.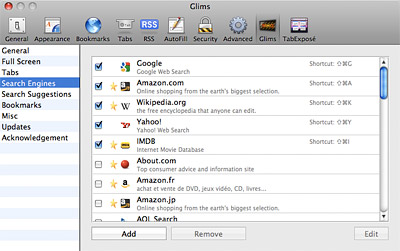 You can even assign custom keyboard shortcuts for each search provider. For example, I can type "Jackie Chan" in Safari's search bar and press Command+Shift+A to find DVDs at Amazon or Command+Shift+I to look at his filmography at IMDB.  I can't tell you how valuable this functionality is — it cuts down on clicks, keystrokes, and time.
Other goodies
One of the other major features of Glims (to me, at least) is the option to automatically close Safari's download window when it's no longer in use. Despite Apple including a setting which clears items from the window once they're downloaded, it's frustrating to see it just sitting there taking up screen space.
Have you ever closed a tab and then said to yourself, "Crap! I didn't mean to do that!"? Glims lets you undo your mistake and re-open the tab by pressing Command+Z.
A lot of folks (and former Windows users) might be happy to hear Glims also includes an option to maximize your browser window. Alternatively, you can view webpages in full screen mode as well.
Try it!
We've only scratched the surface of what Glims can do, but rest assured there's more fun to be had once you install it. Different features appeal to different people, so there may be something important to you that didn't quite jump out at me. Check out www.machangout.com for a complete rundown of all the benefits Glims brings to Safari.
One more thing worth noting… unlike a lot of Safari plugins, Glims is compatible with Macs running Safari 3 AND the new Safari 4 Beta.